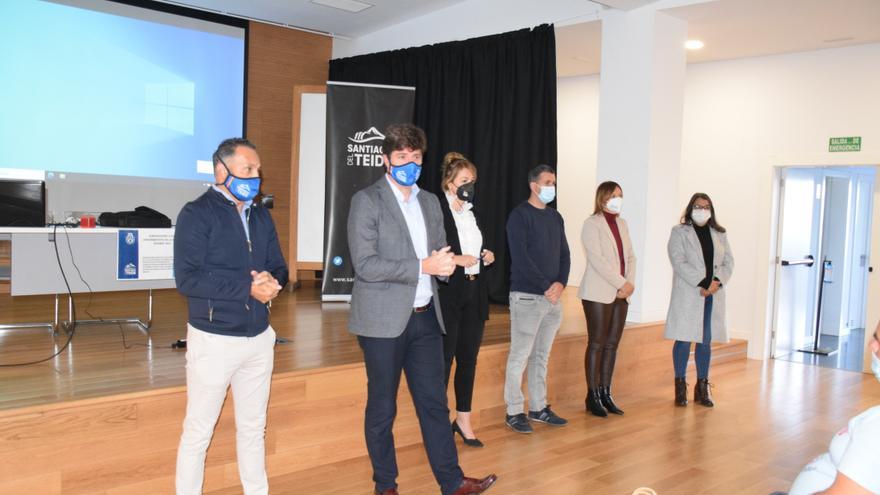 The Mayor of Santiago del Teide, Emilio Navarro, accompanied by the Councilor for Employment, Krysten Martín, and different members of the government group welcomed the 29 people who have started the initial training phase of the employment project called "Santiago del Teide, Reactiva" promoted by the Cabildo de Tenerife in collaboration with the City Council.
This project has a direct grant from the Cabildo de Tenerife of €249,075.06 through the 2021 call for direct grants to the municipalities of the island of Tenerife aimed at supporting projects that contribute to the achievement of sustainable development objectives at a local level, as well as improving its adaptability and resilience in order to progress in the diversification of the island's production structure, for which the City Council has contributed €5,000.
The people participating in this project will be trained in four well-differentiated branches: on the one hand the socio-health branch, on the other the construction branch, the gardening branch and, finally, the commercial tourist promotion branch as sources of employment in the coming months and years since, through them, they want to continue with economic and social development in the municipality.
At first, the 29 people will be trained in soft skills while, later, the specific and complementary training will be carried out in masonry courses, basic care of people in need of assistance, in commercial tourism facilitator courses and garden maintenance courses. and green areas.
The purpose of the project is to train unemployed people, many of whom come from other fields and therefore want to enter the labor market.