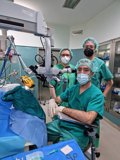 SANTA CRUZ DE TENERIFE, Feb. 28 (EUROPE PRESS) –
The Canary Islands University Hospital Complex (HUC) has recently performed the first Wendler glottoplasty, a surgical technique that allows transsexual women to feminize the voice, a minimally invasive surgery that has been carried out by endoscopy.
Wendler's glottoplasty basically consists of a de-epithelialization (scraping) of the anterior third of the two vocal cords, the subsequent suturing of the affected area and the vaporization of the epithelium of a lateral strip of the cranial face of each vocal cord with laser.
In this way, the vocal cord is tightened and thinned to increase the fundamental frequency of the voice, reports the Ministry of Health in a note.
This first intervention carried out by the Otorhinolaryngology service of the HUC lasted an hour and a quarter and was an outpatient procedure.
The patient was in absolute vocal rest and this Monday she has resumed the speech therapy rehabilitation work in the Voice Unit of the hospital center that began prior to the intervention.
This surgery completes the care for the transsexual group, who usually undergo successive surgeries, both of their reproductive and aesthetic organs, and helps improve their self-esteem.
The voice of trans women is essential to coherently connect their external appearance with their personality.
For otorhinolaryngologists Daniel López Campos and Luis García González, and speech therapist María Eulalia Díaz García, "with the feminization of the voice, the circle of physical change that transgender women need is closed."
THE VOICE UNIT, A REFERENCE TREATMENT OF VOICE IN TRANS PEOPLE
The HUC Voice Unit studies and treats voice pathologies. Its objective is the diagnosis and treatment of the different pathologies of the voice that produce dysphonia, both the organic ones (nodules, polyps, sulcus) and the functional ones (vocal cord paralysis).
For a year now, this unit has also been a reference in the treatment of voice in transsexual people.