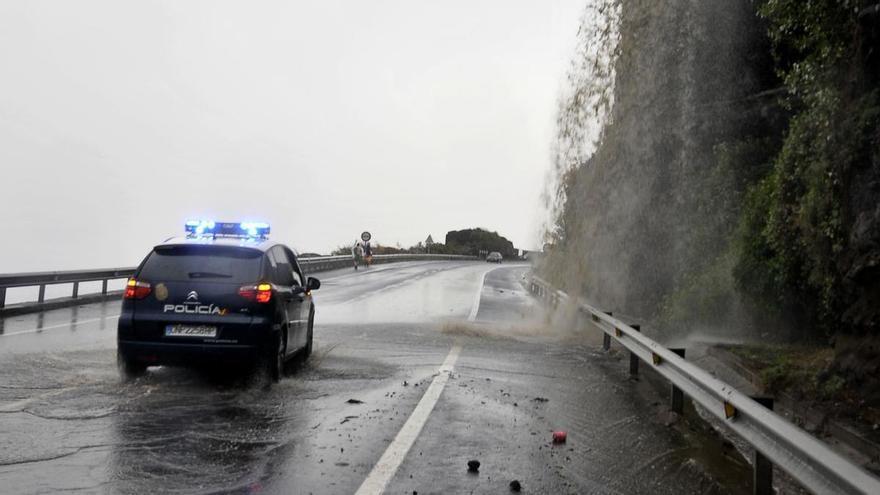 The Council of Tenerifethrough the area of Roadshas presented a technical solution to the Municipality of Puerto de la Cruz to eliminate the waterfall that causes rain on the TF-31 highway, known as the Eastern highway. This insular access road to the municipality by the coast of Martianez It has suffered, for at least 15 years, punctual cuts due to the cascade of water that rushes onto the road from the ravine of Los Pastores.
The First Vice President and Island Councilor for Highways, Enrique Arriaga (Cs)held a working meeting with the mayor of Puerto de la Cruz, Marco Gonzalez (PSOE)in which the insular director was also present, Thomas Felix Garcia. In this meeting, the first mayor was told that this solution already has the approval and endorsement of the Island Water Council of Tenerifewho was represented by his manager, Javier Davara.
Arriaga states that "it is the will of the Cabildo to solve this problem that affects the island road TF-31 and the residents of Cross port for more than 15 years. It is unacceptable that every time it rains with a certain intensity this road is inoperative and has to be closed.
Mark Gonzalezwho attended the meeting together with the councilor for Sustainable City, David Hernandez (ACP)thanked the work that has been carried out for months in collaboration with the Council of Tenerife to "unravel this situation" and remarked that "finally, after almost two decades, we are going to begin to take the first step with a viable and adequate solution, so necessary after so many years of damage to the municipality. It is this first step of this solution and it will include the participation of several administrations in its corresponding processing, so that it can be completed in the coming months.
Cabildo and Porto City Council They emphasize that they maintain "a continuous and fluid contact to continue working on this project and to be able to start, as soon as possible, the works that will improve access by the coast of Martianez to the tourist town.