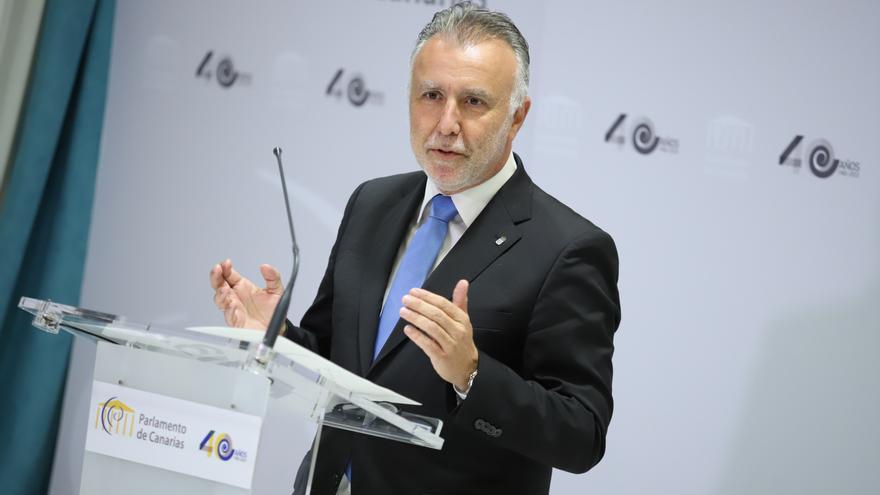 The President of the Government of the Canary Islands, Ángel Víctor Torres, has denied this Wednesday that there is an "island lawsuit" or an attempt to "confront" some municipalities against others around the preparation of the catalog of Francoist vestigesas questioned by City Hall of Santa Cruz de TenerifeY understands that "the law must be applied".
In an interview granted to Radio Club Tenerife and collected by Europa Press, he pointed out that A catalog has not been made "for the benefit of anyone" but rather it has started with the capital of Tenerife because it is one of the cities with the most vestiges and, in any case, has indicated that the regional catalog will be completed this year.
Torres has stated that "the vestiges of a dictatorship have to disappear" well "It does not make sense" that, for example, the names of people who defended democracy are removed and in other cases are "jelly" to maintain monuments of Francoism.
Francoism "is a black stage in the history of Spain"
The president has stated that Francoism "is a black stage in the history of Spain"highlighting for example "the shots in the neck and the wells of oblivion", and for this reason, he has said that "every democrat should be happy" that these references are withdrawn.
He has indicated that around historical memory "there are plenty of controversies" although he has commented that "it is not easy" because sometimes it means changing the name of streets, for example, so "you have to do didacticism".
However, and specifying that he is not a technician on the matter, he stressed that "everything that symbolizes an exaltation of Francoism" must be removed, such as the monument to Franco or to the fallen, in Santa Cruz de Tenerife, because they cannot be enjoyed by citizenship even though they might have historical value.