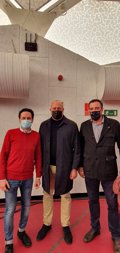 SANTA CRUZ DE TENERIFE, Feb. 7 (EUROPE PRESS) –
The Citizen Parliamentary Group (GPCs) has registered in the Congress of Deputies a Proposal Not of Law (PNL) for the promotion of a railway network in Gran Canaria and Tenerife, with the aim of forming a "real alternative to road transport" on both islands.
This parliamentary initiative reaches the Lower House by the autonomous coordinator of Cs in the Canary Islands, Enrique Arriaga, with a claim that champions the liberal formation in the archipelago and that aims to "achieve transport services that exceed the municipal level" and " contribute to the articulation of the main population centers".
This PNL asks the Government to guarantee "sufficient financing" for the construction and start-up of the Gran Canaria Railway and the Tenerife South Train.
The spokesperson for Transportes de Cs in the Congress of Deputies, Juan Ignacio López-Bas, focuses on "the serious mobility problem" and recalls that "both Gran Canaria and Tenerife have a car park with a density of 3.5 times higher than the national average with almost one vehicle per inhabitant".
For his part, Arriaga indicates that "it is essential that the development of the archipelago arrives through means of transport that respect the 2030 Agenda" and that the State has "the obligation to make investments that entail an adequate and fair economic balance between the different autonomies, attending in this case to the particular circumstances arising from the insularity".
The orange formation recalls in a note that the Ministry's safe, sustainable and connected mobility strategy includes, among other objectives, sustainable mobility contributing to the decrease in greenhouse gas emissions, in addition to reducing the impact of transport on the environment environment, while pointing out the fragility of a territory such as the Canary archipelago due to the high demographic pressure it suffers.
Arriaga withdrew a similar motion from the last Plenary Session of the Cabildo de Tenerife at the request of his government partner (PSOE) in the face of Sí Podemos' threat of breaking the pact in the island corporation if the development of the project is promoted.