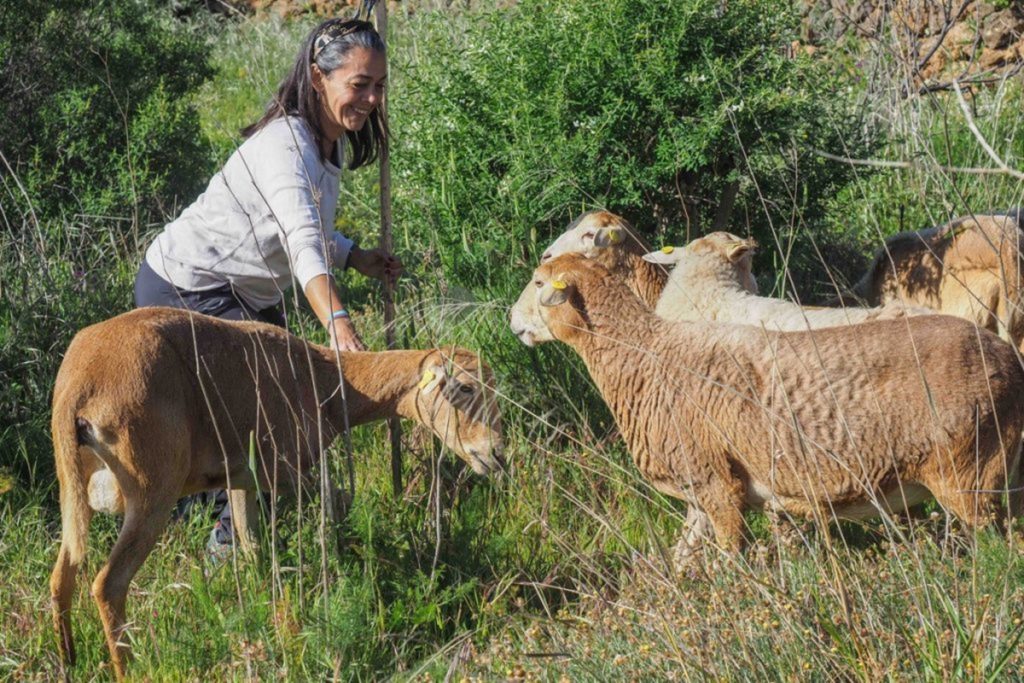 After two years of waiting, Pilar Carballo produces the first organic meat on the island of Tenerife, after leaving the cold civil servant's office for the countryside. Her farm, located at the top of the municipality of Arafo, has a small farm of Canarian hair sheep, a native breed of the Canary Islands in danger of extinction; free-range chickens; bee hives, currently for self-consumption; white grape intended for the production of organic wine and different varieties of fruit and vegetables. And she also claims grazing, now limited in the area: "Shepherds are custodians of the territory," she says.
Since last Christmas, the lamb meat from the La Jara organic farm has been the first and only certified organic meat on the island of Tenerife.
Carballo is a member of Ganaderas en Red, a group of women ranchers and shepherds who make visible the values ​​and benefits of extensive livestock farming and, above all, the work of women in the field and their rights. Women who come together to work on the social visibility of the profession, the support of a lively and productive rural world and to stop machismo and the lack of recognition of the role of women in the sector.
Pilar created a project five years ago and turned it into her way of life: "Agricultural companies are profitable. You have to work, just like in any other". In addition, she is clear that to be successful, the company must "diversify, differentiate itself and dignify the work it does." For this reason, Pilar has become a bastion of the rural and agrarian world and she constantly works to demystify the false stereotypes with which we refer to the primary sector in general, and rural women in particular. "If I had set up a stationery store when I left my job, surely people would have supported me more. They took me for crazy, "says Pilar, who was a civil servant before becoming the first organic farmer in Tenerife.
Javier Parrilla, Minister of Agriculture, Livestock and Fisheries of the Cabildo de Tenerife and president of the Slaughterhouse Insular de Tenerife, who has always been interested in the work of Pilar Carballo, assures that "the Slaughterhouse adapts its lines to be able to maintain the traceability of the production of organic meat and thereby guarantee the certificate for lamb meat from Finca La Jara, thus opening a new line of work for all farmers who want to opt for this option".