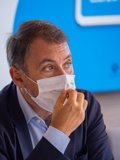 SANTA CRUZ DE TENERIFE, Jan. 28 (EUROPA PRESS) –
The mayor of Santa Cruz de Tenerife, José Manuel Bermúdez, shows his satisfaction this Friday that "the roadmap" planned with the company Cepsa is maintained and the deadlines set in that agreement signed in 2018 are met.
"I hope that the tanks will begin to be dismantled on the scheduled dates, as the Cepsa CEO told me in a meeting early this morning," he said in a note.
At this meeting with the mayor, the CEO of Cepsa, Maarten Wetselaar, was present on behalf of the company; José Manuel Martínez, Director of Technology; the director of Cepsa in the Canary Islands, José Manuel Fernández-Sabugo, and the director of Communication, Juan Llobell.
In this sense, Bermúdez advanced that "the City Council of Santa Cruz will continue to dialogue, as it cannot be otherwise, with Cepsa to propose the urban planning of a modern and sustainable city that will extend over those 578,000 square meters that are going to become in the city from the year 2030".
In June 2018, the City Council of the capital of Tenerife and the company Cepsa sealed an agreement for the city to recover the land of the refinery, under the name of the 'Santa Cruz Verde 2030' project.
On several occasions, the mayor of the chicharrero municipality, José Manuel Bermúdez, has pointed out that this project is key to the future of the city and the island.
"This action, with which the capital will recover 573,000 square meters, will become a unique opportunity in the archipelago to design a new urban model and in this space the environment will be very present and public facilities will have a majority weight", stressed.
This land, he commented, "will be able to house spaces of an insular nature, related to mobility and transport, leisure and culture or sports, as well as a new access to the coast, so needed and demanded by the citizens of this capital".