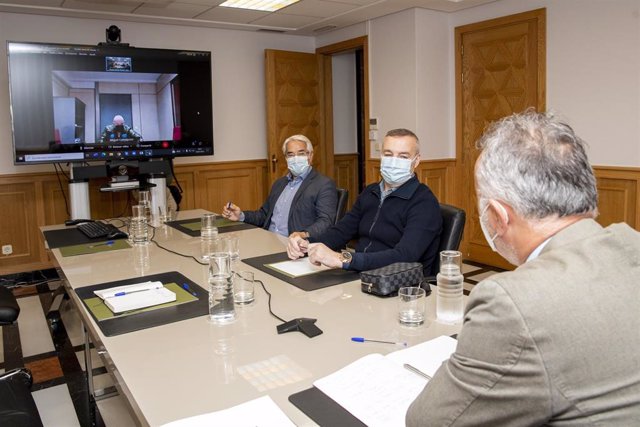 The President of the Government of the Canary Islands, Ángel Víctor Torres, in a meeting with the President of UD Las Palmas, Miguel Ángel Ramírez, and that of CD Tenerife, Miguel Concepción – GOVERNMENT OF THE CANARY ISLANDS
SANTA CRUZ DE TENERIFE, Jan. 24 (EUROPA PRESS) –
The President of the Government of the Canary Islands, Ángel Víctor Torres, announced this Monday that the Executive is already working on the extension of the sponsorship agreements signed with CD Tenerife and UD Las Palmas until 2026 and which end in 2022.
In addition, he commented that the subsidy of one million euros a year that each foundation receives is also being analyzed in a meeting held with Miguel Concepción, president of CD Tenerife, and Miguel Ángel Ramírez, president of UD Las Palmas.
Torres also met with CB President Gran Canaria, Enrique Moreno, the president of CB Canarias, Felix Hernández and the President and Vice President of the UD Granadilla Tenerife, Sergio Batista and Julio Luis Pérez, respectively.
At the end of the meetings, he pointed out the relevance of these meetings with "teams that bear the name of the Canary Islands throughout the rest of the Spanish territory and at an international level", meetings that take place "in difficult times, but in which this wave is apparently being overcome of COVID, bending the curve, and walking towards normality".
The head of the Executive assured that in the near future the round of meetings with other entities of different sports disciplines of the archipelago will continue.