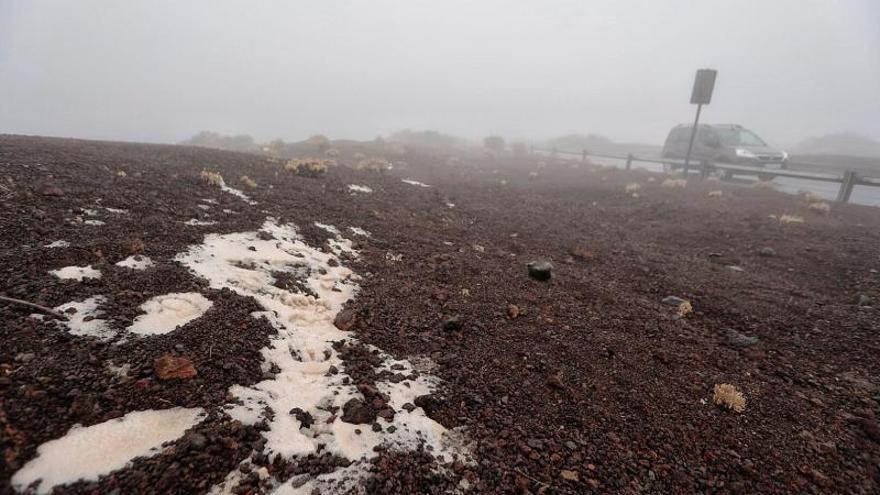 The drop in temperatures during the weekend, significant in all the IslandsAfter a few Christmases with the most appropriate time to go to the beach, he has brought the thermometer to just over one degree below zero, first thing in the morning yesterday, in the Teide National Park. The result has been the water-snow that caused that first snowfall. Already in the afternoon, some curious people have approached the summit of the Island so that children, and not so young, could play with the snow for the first time in the year.
That thin layer has been especially concentrated in the picor, where it has become condensed, as reported by the delegate of the State Meteorological Agency (AEMET) in the Canary Islands, David Suárez. The snow has also set somewhat more copiously in the surroundings of Izaña.
Regarding the weather forecast for tomorrow, in the Archipelago a predominance of slightly cloudy or clear skies is expected without ruling out the presence of haze. Thermometers continue to decline. On Teide, the forecast is for a minimum of 0 degrees and a maximum of 7 degrees. The wind will blow from the east component from light to moderate; in the National Park, 8 kilometers per hour.
A family plays –in the image above– with the first snow of the year that falls in the Teide National Park, although it has not finished setting and it is more like frosty ice. But the illusion remains intact and even more so with that snowfall that has left a small white blanket in the area of ​​the Peak of the highest mountain in Spain (photo on the left). |