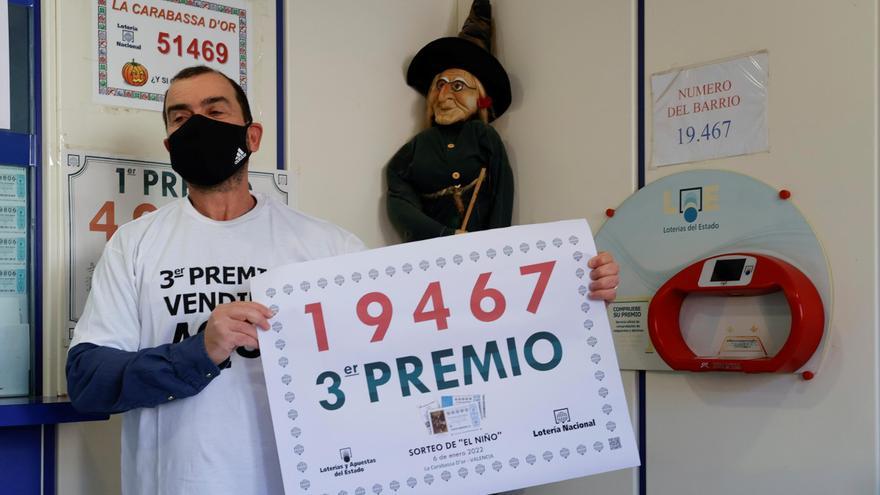 The draw for the Child, which traditionally puts the culmination of the Christmas holidays, has distributed in 2022 a total of 700 million euros in prizes, being 'el gordo' the most coveted to be graced with 2,000,000 euros to the series. Part of the third prize has been sold, among other Spanish locations, in Valencia, according to the information of Loterías y Apuestas del Estado. In the Valencian Community, it has only been sold in the city of Valencia, specifically in an administration located at 10 Calle Francisco Belvis. It has also left a shower of millions in the town of Villablino (León) at a point of sale located on Avenida de Laciana, 44, where a coffee bar is located.
19467 has also fallen in the provinces of A Coruña and Pontevedra. In this case, it has been sold in the Coruña town of Noia and in O Porriño (Pontevedra).
The islands of Lanzarote and Tenerife have also been lucky with part of this third prize. Specifically, in Lanzarote the number has been sold in Puerto del Carmen, at the Costa de la Luz Shopping Center, located on Avenida de las Playas. Meanwhile, in Tenerife the third prize has been sold in Santa Cruz de Tenerife, specifically, on Avenida Alcalde Mandillo Tejera and Calle Álvaro Rodríguez López, as well as at the gas station in Granadilla de Abona.
This is the complete list of prizes of the Lotería del Niño 2020
The Draw of the Child 2022
El Niño has put an end to the Christmas holidays this Thursday, Three Kings Day, distributing 700 million euros in the first draw of the year.
At twelve noon the draw has started in the assembly hall of State Lotteries and Betting by the multiple drums system, which means that, unlike the Christmas one, it does not arouse so much expectation since it follows a pre-established script with a duration of half an hour.
For this draw, 50 series of 100,000 tickets each have been issued, at the price of 200 euros per ticket, divided into tenths of 20 euros.