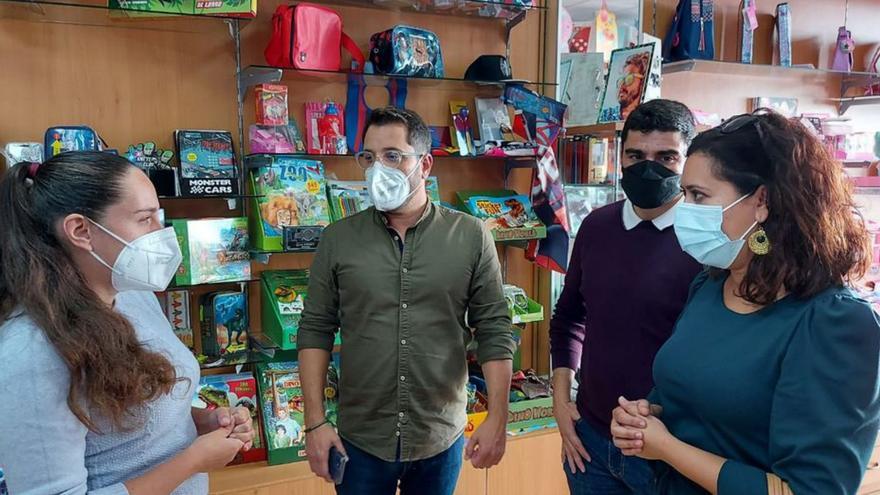 The Council will keep the Tenerife Bonds on sale to promote consumption in small businesses on the island. The insular counselor for Employment, Economic Development and Foreign Action, Carmen Luz Baso, explains that the establishments have already collected the first vouchers exchanged by users during the first weeks of the campaign. Consumers have until the next day 16 to access the website bonotenerife.es and get vouchers of 15 or 10 euros to pay only half of what was spent.
Baso points out that "in some shops they have come to use vouchers for a value equivalent to 1,000 euros, which shows the validity of this system to reactivate sales."
The counselor has visited shops in Candelaria and Los Realejos, two of the island's municipalities in which this incentive has had the most impact, to find out how the pilot experience is working. In the meetings she has been accompanied by the Mayor and the Councilor for Commerce and Tourism of Candelaria, Mari Brito and María del Carmen Clemente, respectively; and by the mayor of Economic Promotion of Los Realejos, Adolfo González.
Shops in 23 municipalities have taken part in the Tenerife Bonds program managed by the Insular Foundation for Training, Employment and Business Development (FIFEDE). For this first edition, a total of 32,133 consumption have been activated: 12,854 for hospitality establishments and 19,279 for retail businesses and service providers.
Fifty percent
Each hospitality voucher has a value of 15 euros, while those of the other two sectors reach 10. In both cases, the Cabildo pays fifty percent of the value, while the other half corresponds to the consumer. During the validity of the initiative, establishments that meet the requirements established in the regulatory standards may register, through the form available on the platform.
In order to provide information about the program, a telephone service is available to establishments and potential clients, at number 922 100 008, with the following hours: from 9:00 a.m. to 9:00 p.m., Monday to Friday, as well as from 10:00 to 14:00 on weekends. In addition, inquiries can be made at the email [email protected] or at the WhatsApp number 649 671 643.
Craft fairs open in Reyes
Two Kings Craft Fairs, located in the municipalities of Santa Cruz and La Laguna, opened their doors yesterday. In the capital's Plaza del Príncipe (24th edition) and in the Adelantado de Aguere (13th). There, 71 artisans, 40 and 31, respectively, come together to boost sales in the sector during the Christmas holidays. The work of a wide variety of professionals from various trades can be seen there until the 5th, from 11:00 a.m. to 10:00 p.m. From jewelry to recycling materials, decoration of fabrics, traditional pottery, dolls, jewelry, leather goods, cutlery, oil mills or macramé.