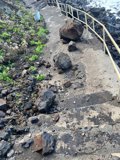 SANTA CRUZ DE TENERIFE, December 30 (EUROPA PRESS) –
The City Council of La Orotava reports that these days new landslides have occurred on the slope of El Bollullo beach and affect the access path to the beach itself.
For this reason, the mayor, Francisco Linares, reports that the respective technical inspections have been carried out "and until further notice" access to the beach is closed because security is "a priority."
These days, large rocks have fallen in an area where there is no protection and a few months ago there was already a significant landslide in the area that forced the beach to be closed for a few months, but this action by the emergency route did not contemplate comprehensive action .
"So now, and as it was intended, it will be necessary to place the protection along the entire slope," says Linares.
In the coming days of January, budgets will be requested from specialized companies to carry out these works, condition the entire slope and open access when security can be guaranteed.
Next week, municipal technicians will study in greater detail the situation of the cliff and the measures to be adopted.