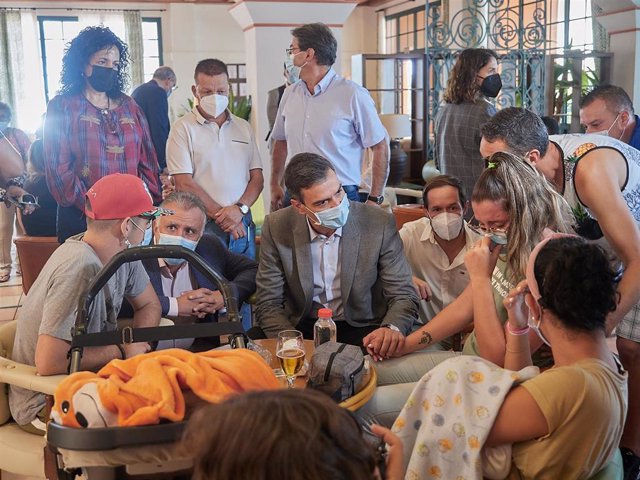 Archive – The president of the Canary Islands, Ángel Víctor Torres (2i); the President of the Government, Pedro Sánchez (center) and the President of the Cabildo de La Palma, Mariano Hernández Zapata (4d), during a visit to a hotel whose facilities are staying pers – Toni Cuadrado – Europa Press – Archive
SANTA CRUZ DE TENERIFE, December 26 (EUROPA PRESS) –
The President of the Government, Pedro Sánchez, will travel to the island of La Palma this Monday for the eighth time since the volcanic emergency was activated and after this Saturday the eruption of the volcano was officially terminated.
Pedro Sánchez begins his visit to the island, at 11 a.m., at the meeting of the Steering Committee of the Special Plan for Civil Protection and Emergency Attention for Volcanic Risk in the Canary Islands (Pevolca), which will take place at the Salazar Palace, in Santa Cruz from La Palma.
Then, at 12.30 pm, the Chief Executive will visit the Advanced Command Post in El Paso, where he will greet the professionals and volunteers who have participated in the device activated in the face of the volcanic emergency.
Later, at 1:30 p.m., Pedro Sánchez will visit the Tajuya Viewpoint, where he will greet the National Geographic Institute (IGN) technicians.