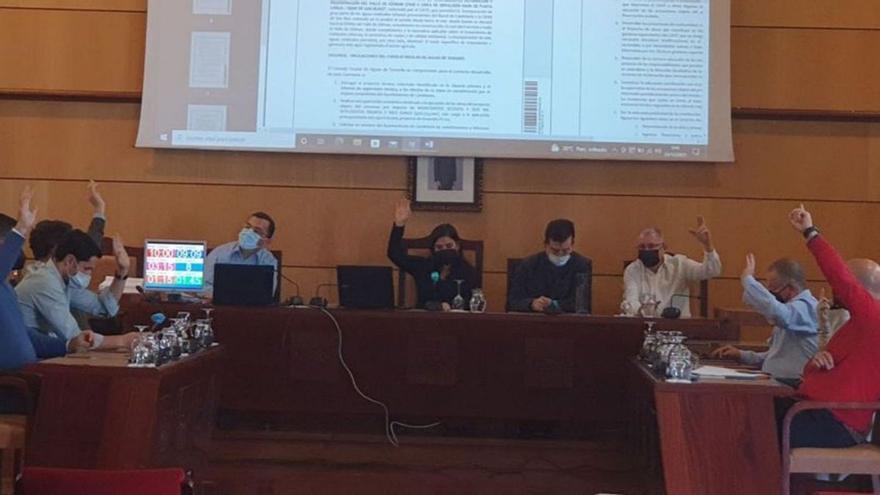 Candelaria starts the process to transfer the sewage generated in the coastal area of ​​Villa Mariana to the regional treatment plant. Yesterday, the municipal plenary session unanimously approved an agreement with the Tenerife Island Water Council (Ciatf) by which the Council will contribute 976,733 euros to execute the impulsion line of the Wastewater Pumping Stations (EBAR) of Punta Larga and San Blas.
The work is part of the first phase of the project called Actions for the incorporation of wastewater from the Candelaria coast to the Regional Sanitation, Purification and Regeneration system of the Güímar Valley and has a total budget of 3,971,923 euros. The rest of the financing that this project requires will come from the Municipal Cooperation Plan of the Island Corporation as well as funds from the Candelariera Administration. The local government reported yesterday that He hopes that the work can be tendered during the year 2022, once the precise sector reports are completed.
Along these lines, the Mayor of Candelaria, Mari Brito, announced that in the ordinary plenary session that will take place next Wednesday, the 29th, the Plenary will pronounce on the agreement between the Council of Tenerife and the Villa Mariana Town Hall for the execution of the project for the rehabilitation of the Plaza de la Patrona de Canarias, which includes another of the sections of the sewage network pipes.
During the extraordinary session held yesterday, María Concepción Brito emphasized the "clear and determined commitment of the municipal government group to invest in purification and sanitation projects." He assured that "they have been and are working on this" in order to draft the projects and seek funding for their execution. The goal is "to reach the goal of completing the entire network." The councilor was also firm when she defended that "this agreement is the result of work and perseverance."
It so happens that the Canary Islands Government It reflects in the Budget of the Autonomous Community for 2022 the seven million euros that correspond to the financing destined to carry out the project of the San Blas Wastewater Pumping Station, as well as the complementary works of its connection to the regional treatment plant. This work is in the testing phase by the Tenerife Island Water Council (Ciatf).
The mayor also explained that the set of projects in the field of sanitation in Candelaria is proposed to the Ministry of Ecological Transition of the Regional Executive to obtain the financing required for its realization through European funds, within the framework of the cooperation work established in this matter between the Government of the Canary Islands and local entities.