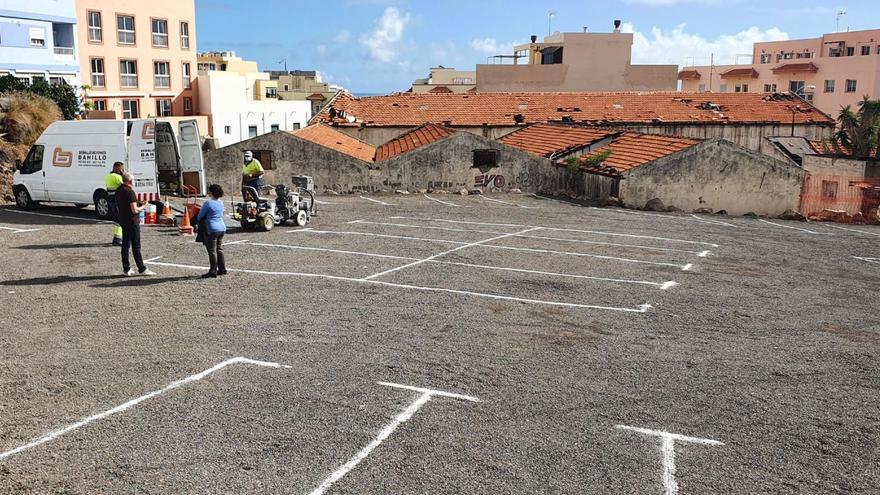 The Candelaria Town Hall opened to the public yesterday a provisional parking that he enabled in the rear area of ​​the old Don Sixto Machado packinghouse, andn the entrance to the urban area of ​​Villa Mariana. There are 46 parking spaces whose vehicle access is through Las Vichas street, while pedestrian traffic occurs through El Pozo street.
The municipal government reported yesterday that these 46 parking spaces "will allow residents and visitors to have more comfortable access to the town of Candelaria", to the environment that concentrates administrative and essential services such as the health center, the City Hall, the Market of the Farmer and different commercial and restoration enclaves. This parking area is also located "five minutes from the Plaza de la Patrona de Canarias and the Basilica."
The provisional nature of this area is reflected in the use of gravel to fill the space and to condition this place, where the 46 parking spaces have been delimited.
This action by the candelariero Consistory is a service that tries to alleviate the chronic deficit of parking that the municipality suffers, especially in the urban case. These squares, in addition, can contribute to cushioning the traffic chaos that is generated at the entrance to Villa Mariana since the bus stop was enabled in the Plaza de Teror as a transshipment point in the Güímar Valley.
May 22 of last year was when the Candelaria City Council formalized the purchase of these buildings that date back 101 years. The cost of the operation amounted to 2,270,000 euros, coming from the municipal surplus for 2018. The investment has the support of the Plenary, with the exception of Neighbors for Candelaria and Citizens, who abstained.
The mayor of Candelaria, Mari Brito, has been a defender of this operation because she understands that it is an (industrial) heritage that will allow not only to enable parking lots – the reason for which the purchase of real estate was launched -, but because it enables the development of public projects linked to leisure, culture and gastronomy.