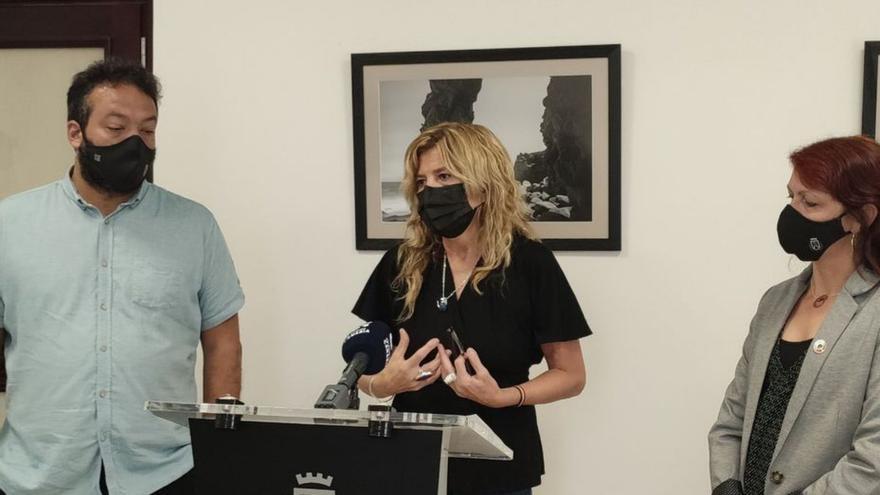 Yes We Can Canarias has presented 39 amendments to the Cabildo budgets for 2022. They total 12,126,400 euros distributed in nine large blocks. They have already been approved in the Plenary Committee and will be endorsed in the monographic plenary session tomorrow. The representatives of the group that supports the government group from outside – something they insist on – are "satisfied" with the contributions to accounts that, in their own words, have based on people, the defense of human rights and social, as well as in compliance with the Sustainable Development Goals (SDG) and the 2030 Agenda.
María José Belda, spokesperson, and her colleagues, Ruth Acosta and David Carballo, broke down the amendments with special emphasis on an approach: "It is now, when the budget is drawn up, when we see it essential to incorporate our contributions with the corresponding financing." Value that some questions that were withdrawn or rejected in full now return to the fore. And approved. Among them, the purchase of homes by the Cabildo, a Climate Change strategy or the Tenerife Anti-racist Project.
Block 1.
Eight amendments worth 1,958,107 euros focused on the Fight against Climate change, Energy Transition and Km0. From a Market Network to the stimulation of the Circular Economy or the Climate Change Strategy, as well as awareness campaigns for the separation of organic waste.
Block 2.
Amendment of three million euros to purchase homes and transfer them to the Canary Institute (ICAVI). Belda argues: «Against what some group wanted to give the money to other institutions. And still recognizing the scarce skills.
Block 3.
Environment and Natural Heritage. Seven proposals for 833,321 euros. They range from the conditioning and paving of rural roads or the signage of trails to the recharge and water recirculation project in the only two wetlands on the island, those of Tejina and Bajamar, in La Laguna.
Block 4.
The grassroots sport achieves 2,424,240 euros with three amendments. They refer to the rehabilitation and roofing of the El Palmar sports center, in Buenavista del Norte; improvement of the soccer field in Las Breñas (El Sauzal) and performance in facilities in El Rosario, San Miguel and Santa Úrsula.
Block 5.
Social Rights, defense of Human Rights and International Cooperation. A total of 954,420 euros in four amendments. Noteworthy is the subsidy to the ELA Association or the Anti-racist Project.
Block 6.
Animal Rights in two chapters. They are 486,000 euros focused on the El Ravelo Hostel, in El Sauzal.
Block 7.
Creativity as the axis with special incidence on young people. For this initiative there are 940,300 euros in eight ideas.
Block 8.
Protection of the Historical and Cultural Heritage of the Island with 300,000 euros in three ethnographic projects.
Block 9.
Mobility as an axis and three proposals with special relevance in the bicycle lane on island roads. They are in total 1,250,000 euros.