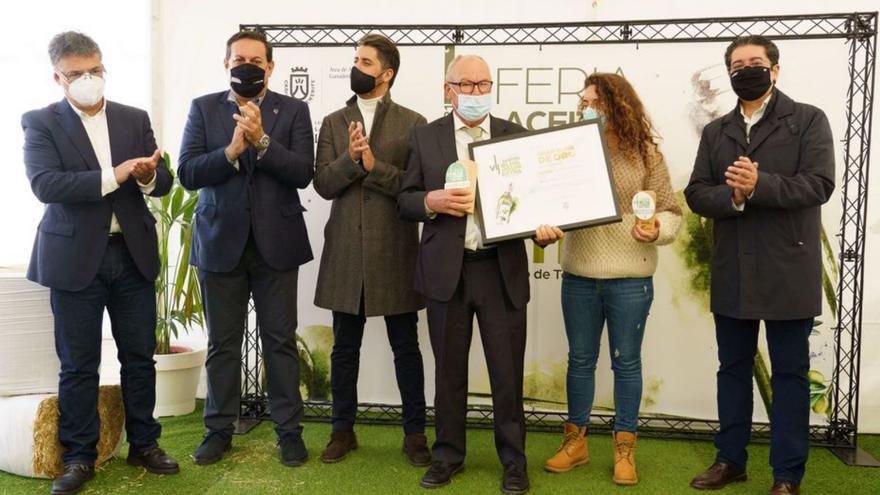 Oleoteide, the olive oil from the Sociedad Cooperativa Cumbres de Abona (Municipality of Arico), received yesterday the main prize of the Extra Virgin Olive Oil Contest, a contest organized by the Tenerife Council that promotes the quality of island productions to increase their sales and give them greater notoriety among consumers. The product that received the Gran Oliva de Oro award is the mixture of Arbequina, Picual and Arbosana. The olive oils of Cumbres de Abona, a cooperative that also produces high-quality wines, are consolidated in this way among the most awarded in the Canary Islands with 18 trophies, among them the 2020 Gold Medal and the 2021 Gold Medal at the Cinve International Contest.
The awards ceremony was held yesterday in the Plaza del Cristo in La Laguna within the framework of the III Extra Virgin Olive Oil Fair of Tenerife, which was attended by the island president, Pedro Martin; the mayor of La Laguna, Luis Yeray Gutierrez; the Minister of Agriculture, Livestock and Fisheries, Javier Parrilla; and the director of the Canarian Institute of Agrifood Quality, José Basilio Pérez. Pedro Martín praised the quality of the samples presented and celebrated "the seniority and young faces" of the winners and participants. "Thank you very much for this push, for being the pioneers, because I am sure that you are sowing the seeds of what will be, I hope, a revolution for Tenerife in the agricultural sector," he stressed.
The second most important award, the Golden Olive, it was for Legado de Abona, with a monovarietal Arbequina oil, and the four Olivas de Plata were awarded to the following brands: Oleoteide (another of Cumbres de Abona's star oils), for a monovarietal koroneiki; Trevejos (Vilaflor), for an arbequina oil; Oleomar (Arico), for its Arbequina and Picual mix; and Oleoarona (Arona), for its mixture of koroneiki, frantoio and picual. In addition, the Tomillo brand, from Áridos Herrera (Arico), won the award for the best presentation.
Tenerife's olive oil production, although small compared to that of Andalusia, gains in quality year after year. In Tenerife there are about 70 hectares of olive groves, mainly located in the south and southeast of the island, although there are also some farms in La Laguna and Tacoronte. In this last year, the 13 oil mills on the island have processed around 200,000 kilos, which resulted in about 30,000 liters of extra virgin olive oil. Javier Parrilla remarked that it has been a "particularly good" year, with a "spectacular" flowering and "a very good fruit setting. In addition, there has been a low incidence of pests, "concluded the counselor.