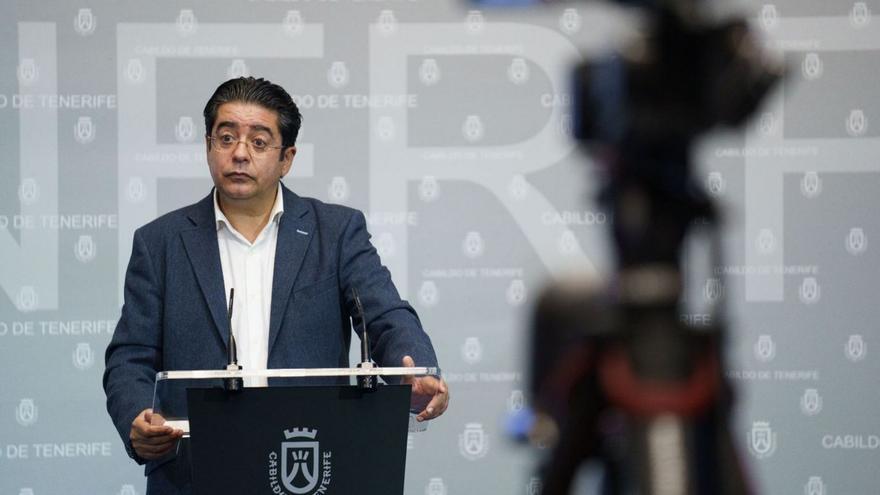 The Council will subscribe a credit operation for 60.5 million euros to face the "necessary works" in 2022. This has been announced by the island president, Pedro Martin, without going into more details about these projects, although some are already underway and others will start next year. They require financing that, in addition, "will balance the balance of income and expenses."
Martín has explained to the mayors of the 31 municipalities of the Island, within the Insular Council of Territorial Administration (CIAT), the general lines of the accounts for the next fiscal year, which will be fully debated on the 23rd. He has justified the credit in the fall of income from other administrations to carry out works that has encrypted around 26%.
The president does not want a "complicated" budget to fall due to the ongoing crisis situation and insists that this "assumable" indebtedness will allow income and expenses to be leveled. The amount will be allocated to works in the social or cultural area, on roads or in the environment. In this last area, it has made the investment in machinery for firefighting personnel, whose campaign already covers practically the whole year, or the reforestation plans.
For Pedro Martín, the distribution of resources between municipalities is "for the first time equitable" with a special impact on employment programs and "agreed through agreed criteria" with the Canarian Federation of Municipalities (Fecam) in addition to "with the town halls ». Martín insists that "today (yesterday) we have heard proposals, requests and criticisms from those municipalities." He insists that "it is not that we have agreed with the Fecam but that we have gone hand in hand when it comes to launching aid plans in social services or employment according to needs."
He has assessed "programs that also reach the municipalities." For example, «the Municipal Cooperation Plan that allows small, those with less than 20,000 inhabitants, to access necessary works. Not only the usual sanitation but others such as the supply of drinking water or improvement in cemeteries. Martín sums up: "Always with a municipal vision." Regarding the aforementioned credit operation, he points out that "we ruled out the other possibility, which was to draw up a downward budget." This, he indicates, "would not generate economic activity or provide wealth."
The president emphasizes: "Those 60.5 million euros of credit are very far from our maximum level of indebtedness." And he concludes: "They hardly represent a little more than 20% compared to the 75% limit because we are responsible and we are committed to executing those projects."
The PP denounces "cuts" in investment
The PP blames the Cabildo for "wanting to cut 40% in investments in the field of mobility in Tenerife." Manuel Fernández, deputy spokesman, values: "With the island collapsed, the island government imposes a bloody cut in the area." The PP points out that "Mobility reduces its budget, globally, by 7%, while the chapter on real investments suffers a cut of 40% compared to last year." Sentence: "If we make a comparison with 2019, the Cabildo will invest four times less in mobility next year" ". Globally, the popular figure the "cut in investments" at 20%. To this they add "the low level of execution in the current fiscal year, which as of October 31, only reached 35% of the forecast." But there are opinions for all tastes. For example, that of Nueva Canarias (NC) in relation to the resources of the regional budget. The Tenerife coordinator, Valentín Correa, assures that "they contemplate the largest investment in history with more than 214 million euros for the Island."