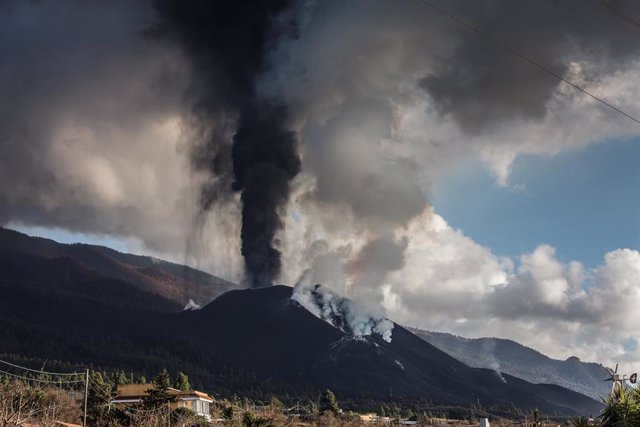 Cumbre Vieja volcano, on November 19, 2021, in La Palma, Santa Cruz de Tenerife, Canary Islands (Spain). The volcano currently has three active fronts, one that goes from Montaña Rajada to the north of Montaña Cogote -colada 11-, another that continues to feed – Europa Press
SANTA CRUZ DE TENERIFE, Nov 28 (EUROPA PRESS) –
The General Directorate of Security and Emergencies of the Government of the Canary Islands has issued this Sunday a notice in which it indicates that the situation of air quality due to sulfur dioxide (SO2) is 'very unfavorable' in the municipalities of Tazacorte, Los Llanos de Aridane and El Paso, on the island of La Palma.
Thus, today there has been an exceedance of the sulfur dioxide alert threshold (500 micrograms / m3 for three consecutive hours) at the Los Llanos de Aridane station between 10 a.m. and 1 p.m., associated with emissions of volcanic activity, with a maximum hourly concentration of 724 micrograms / m3.
As a precautionary measure, for risk groups and sensitive populations it is recommended to stay indoors; For the general population, it is advisable to avoid intense or prolonged physical activities outdoors during the alert, avoid contact with tobacco smoke or allergens such as dust or pets, reduce outdoor activities and carry them out indoors or postpone them to when the air quality is good or reasonably good; Use of FFP2 or higher masks adequately covering nose and mouth.
Information on the evolution of the episode will be available at https: //www3.gobiernodecanarias.org/medioambiente/calidaddel …. It is also advisable to be attentive to the instructions received from the civil protection authorities. For any emergency you should call the emergency telephone number of the Government of the Canary Islands 1-1-2 and for inquiries to 012.