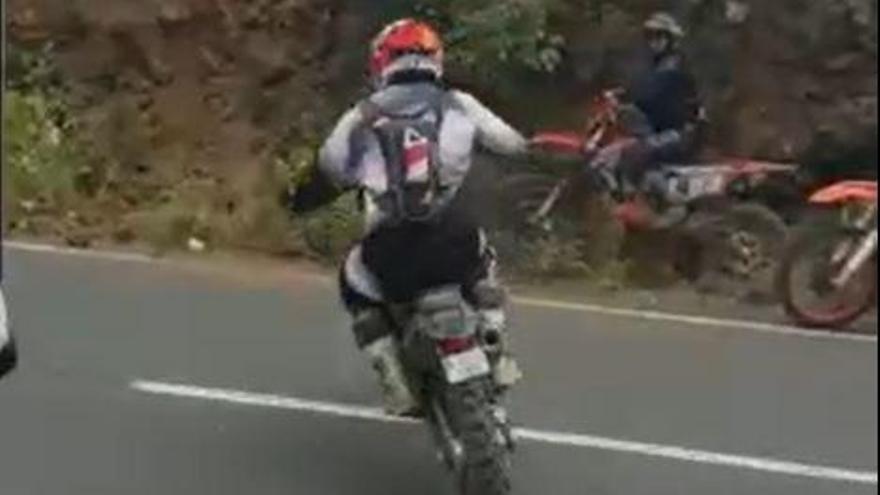 Four motorcycle drivers have been identified by agents of and brought to justice by the Civil Guard alleged crime of driving a motor vehicle with manifest recklessness, putting in concrete danger the life or physical integrity of the people.
Agents of the Investigation and Analysis Group of the Civil Guard Traffic Group (GIAT) of the Traffic sector of Canary Islands detected the dissemination of a video in various and well-known social networks, in which several people were observed on their motorcycles circulating on the TF-523 road, known for the "climb to Los Loros", while performed "horses" in a coordinated way, putting their own physical integrity at risk, as well as that of other road users.
The agents began steps to identify the drivers and locate the motorcycles, and finally, after gathering sufficient evidence, they managed to identify the four drivers involved in the events. They are four men between 28 and 34 years old, residents of Santa Cruz de Tenerife, who are accused of a crime of driving a motor vehicle with manifest recklessness and putting the life or physical integrity of people in concrete danger.
Of the facts investigated, the proceedings have been delivered to the Investigating Court acting as Guard of the judicial district of San Cristóbal de La Laguna.
The four drivers, in accordance with the provisions of the Criminal Code, for the alleged crime of reckless driving, can face a prison sentence of six months to two years and deprivation of the right to drive motor vehicles and mopeds for a period of time. greater than one and up to six years.