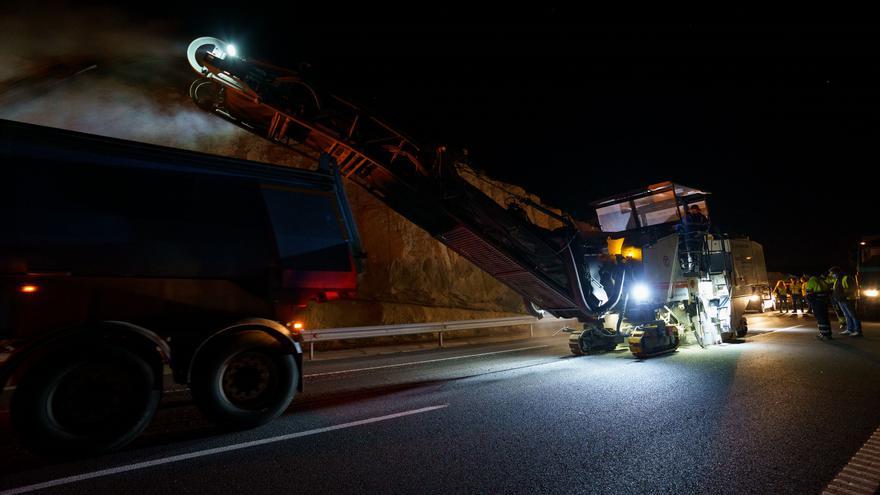 In the direction of Santa Cruz, the works will cover two sections, between the kilometer points 77.3 and 76.6 and between 51.4 and 51.5. Heading south, the works will cover the Tajao, Chimiche and Tenerife Sur Airport links.
The Minister of Roads, Enrique Arriaga, has advanced that the works on the intermediate layer are almost finished in many sections, which will allow to start shortly with the final layer of tread.
The works will be carried out at night to avoid inconvenience to drivers and guarantee the safety of those who circulate. Thus, they will run from Sunday night to Friday morning. The diversion of traffic will be carried out forming a fork that will cover a few kilometers before and after the workspaces.
During Sunday and Monday the links of Playa Fañabé (76), Costa Adeje (78), Adeje (79) and the two entrance links to the Polígono Industrial de Granadilla (50 and 52), in the direction of Santa Cruz, will be affected. As of Tuesday, the works will begin to be carried out in the southern direction, causing detours in the Tajao (46), Chimiche (49) and Tenerife Sur Airport (59) links.
The Cabildo will mark the corresponding detours for each of these exits to guarantee safety in night traffic. In addition, the Roads and Mobility Area will report daily on the changes in traffic that will take place during the night.
These works are part of the TF-1 resurfacing plan that has been underway since last April and which includes an execution period of approximately 14 months. In total, the works, carried out by SACYR, will include about 40 kilometers of the road between Adeje and Arico.