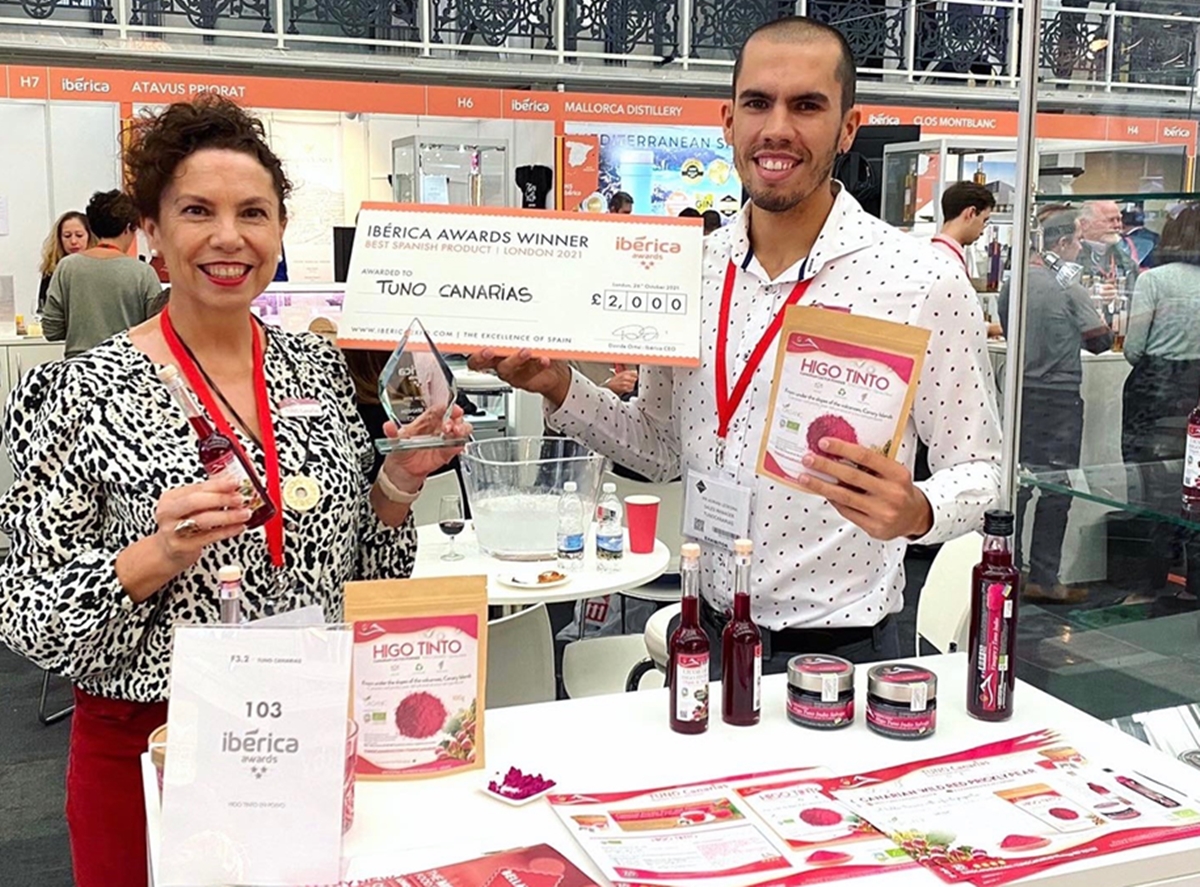 The red fig produced by a small family business in Arona, Tuno Canarias, has been chosen as the Best Spanish Product at the Iberian Fair in London, where it competed with the best national delicacies. The Canarian representation, under the umbrella of Proexca, won three of the four awards from the Spanish delegation. In addition to the highest award for Tuno Canarias, the Tenerife companies Bodegas Atlante and La Vieja Licorería were also recognized with the Three Stars award.
"We are proud and rewarded after a titanic family work for almost two years since we started an adventure that not only brings food and flavor, but also health to people, so this award has a double reward," they told this newspaper José Ledesma, 58, and Inmaculada Bello, 55, the entrepreneurial couple who decided to bet on innovation and take advantage of the tuneras from their farm in La Florida, in Valle San Lorenzo (Arona).
After the pandemic ruined the initial plans to turn the farm into a point of tourist visits, with a winery and excursion circuit through a ravine full of cardones and stalks, both opted in full confinement for a risky decision: to exploit the more than 200 tuneras scattered around its land.
"We said: red figs have a natural colorant with very beneficial properties for health that nobody is taking advantage of, and we began to think about whether it was possible to get some profitability from so many prickly pear and wild figs, which, in addition, in the South it is where they occur most due to the climate. It sounded crazy, but we jumped on it, "explained José Ledesma.
Both he and his wife were delighted with the award, worth 2,000 pounds, obtained at the fair promoted by the Italian firm Bellavita and in which 3,000 products participated. Some thirty judges, including buyers, importers, chefs, sommeliers and retailers evaluated flavors, history, packaging, relevance to the labor market, innovation and sustainability.
"After a hard effort, dreams come true", assured José and Inmaculada, who highlighted the health properties of the Indian tuno fig, smaller than the traditional one, with an intense red color and a more sour taste. "It is a source of ancestral health. For many years it has been used in the Canary Islands as a home remedy for diabetes, obesity, hypertension, cirrhosis of the liver, the prostate … what happens is that many people do not know it, "said the southern entrepreneur. His wife highlighted its "anti-inflammatory, antioxidant and anti-aging" properties.
Tuno Canarias produces jam, herbal teas, organic sea salt, vinegar and pulp for smoothies, liqueurs, juices and pastries.