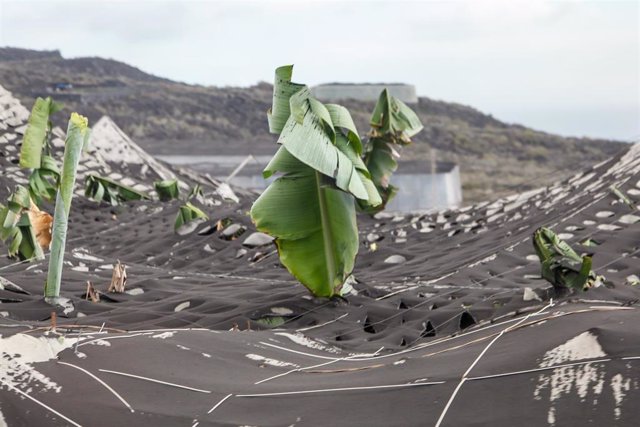 Ash-covered cultivation area in Puerto Naos, on October 27, 2021, in Puerto Naos, La Palma, Santa Cruz de Tenerife, Canarias, (Spain). The emission of lava that has been taking place as a result of the last reconfiguration of the morphology of the cone vo – Europa Press
SANTA CRUZ DE TENERIFE, Oct 31 (EUROPA PRESS) –
The director of the National Geographic Institute (IGN) in the Canary Islands and spokesperson for the Pevolca Scientific Committee, María José Blanco, stressed that in the last 48 hours a considerable volume of ashes has been immissioned that have covered the entire western sector and northwest of the island of La Palma.
María José Blanco indicated at a press conference that this phenomenon has been accompanied by audible explosions of great intensity and pointed out that this episode could be caused by an intense degassing process.
There have also been several volcanic rays – the Aemet registered 16 volcanic rays between 09:48 and 22:23 yesterday – and shock waves associated with the most energetic explosions of the volcano.
The spokesperson for the Scientific Committee also highlighted that in the latter cases an increase in the rate of lava emission from the emitter focus of the northwest flank of the main cone has been observed. These flows, which have been called 1 and 3 and which have reached the front of the 9, have had practically no progress in the last 24 hours.
The height measured today at 0930 hours of the eruptive column and its dispersion level has reached 4,500 meters. As for the meteorological conditions, the most notable thing is the disposal of the ash, which is scheduled for today towards the northwest-north and which could affect the operation of the airport.
Regarding seismicity, a decrease in the number and magnitude of earthquakes has been observed in the last 24 hours both at depths greater than 20 km and between 10 and 15 km; furthermore, no felt seismic activity has been recorded. The maximum magnitude has been 3.5 mbLg.
The deformations in the stations closest to the eruptive center continue to show a stable pattern. Sulfur dioxide (SO2) associated with the volcanic plume continues to maintain a downward trend during the last six days, registering a value of 7,700 tons per day yesterday, and the diffuse emission of carbon dioxide associated with the volcanic ridge of Cumbre Vieja maintains a trend ascending, with yesterday's value of 1,450 tons per day.
In relation to air quality, yesterday they remained at average levels of SO2 concentration, which were significantly lower than the references of the hourly limit values, which are established at 350 micrograms / m3, in all the network stations.
Regarding PM10 particles, values ​​below the daily threshold (established at 50 micrograms / m3) continue to be recorded in all stations on the island, except in Los Llanos, where a peak of 499 micrograms / m was reached yesterday at midnight. m3, a value that decreased throughout the night. This morning, at 10 a.m., a new peak of 368 micrograms / m3 occurred. With yesterday's value, the daily PM10 threshold was exceeded at this station, with a value of 141 micrograms / m3.