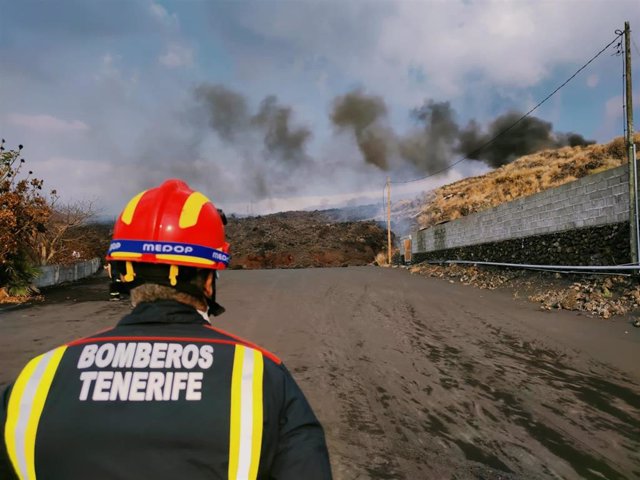 A firefighter from the Tenerife Firefighters Consortium monitors the progress of the southern wash on the island of La Palma – TENERIFE FIRE FIGHTERS
SANTA CRUZ DE TENERIFE, Oct 29 (EUROPA PRESS) –
The technical director of Pevolca, Miguel Ángel Morcuende, has reported that this afternoon wash 3 has been activated, which runs south and southwest in the direction of Las Norias. It is located approximately 300 meters in a straight line from Las Norias and also near the access road to Puerto Naos, but quite far from this town.
Miguel Ángel Morcuende, who has updated the situation of the eruption, recalled that from the Pevolca, and in collaboration with the Cabildo de La Palma, a shuttle bus service has been launched that has hours from 10 a.m. at the airport Old man from Buenavista, every 20 minutes, until 10:40 p.m. A bus will leave in the direction of the Plaza de Tajuya, where it is intended to have the last bus back at midnight on Saturday, Sunday and Monday.
Likewise, he reiterated that in order to access both Los Llanos de Aridane and the Villa and Puerto de Tazacorte, in order to have a fluid circulation on the LP-3 highway and so that the emergency troops can circulate with fluidity and with greater tranquility, the traffic directed to Los Llanos and Tazacorte will be made, in a downward direction, along the slopes of El Paso-Hermosilla and the return can continue as before on the LP-3.