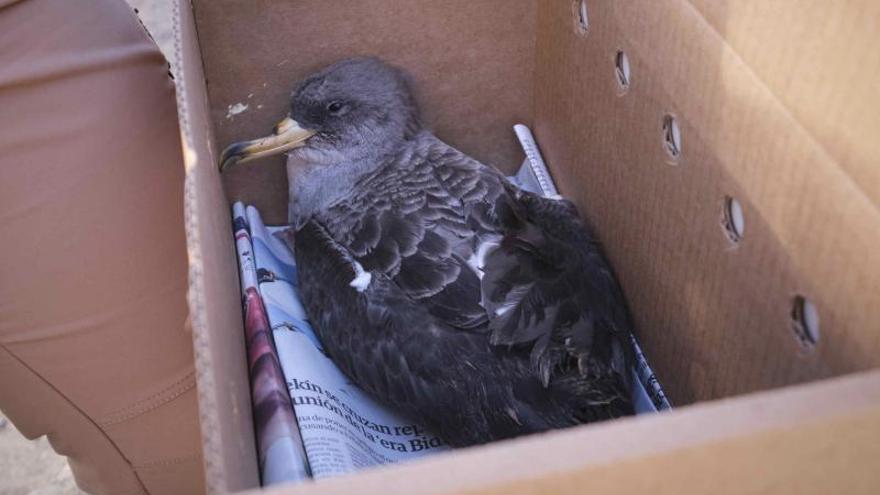 The Barranco Hondo coastline, in the municipality of Candelaria, has hosted one of the first releases of Cinderella shearwater of the season within the insular campaign that began a few days ago and will last until mid-November. The Minister of Management of the Natural Environment and Safety of the Council, Isabel García, and the comedian Aarón Gómez have accompanied the staff of the La Tahonilla Wildlife Recovery Center in this act full of symbolism.
The Tenerife comedian has participated with a video of several minutes. In a humorous way, he explains the process that thousands of shearwaters go through each year to take flight on their way to the ocean. And, in addition, how the youngest specimens are affected by the lights of cities, avenues and hotels. Real insurmountable obstacles for chickens that fall and are subject to the action of predators, especially domestic or feral cats, the maroons. The video indicates the routes through which the population should notify if a disoriented bird or on the ground is found. It is already in circulation on the Cabildo's social networks and has had the participation of the Seo Birdlife organization.
The staff of La Tahonilla carries out a campaign to collect these disoriented chickens between this month and November and after rehabilitating them in the center, he proceeds to release them, like the one that took place yesterday. The initiative is supported by volunteers, civil protection, local police, Civil Guard and Red Cross.
«The collaboration of Aarón Gómez will help spread a message of awareness of the protection of their own species", Assesses the counselor, who points out:" The characteristic humor of this comedian of ours can be fundamental to reach the population and to know how the shearwater copes with its first flight and the dangers that excessive coastal lighting can pose. "
Gomez did not want to lose field work. He summarizes: «I have participated with all the affection towards a very characteristic species of the nights of the coast of our Islands. And he concludes: "Let's hope the message works and as many shearwaters as possible can take flight."