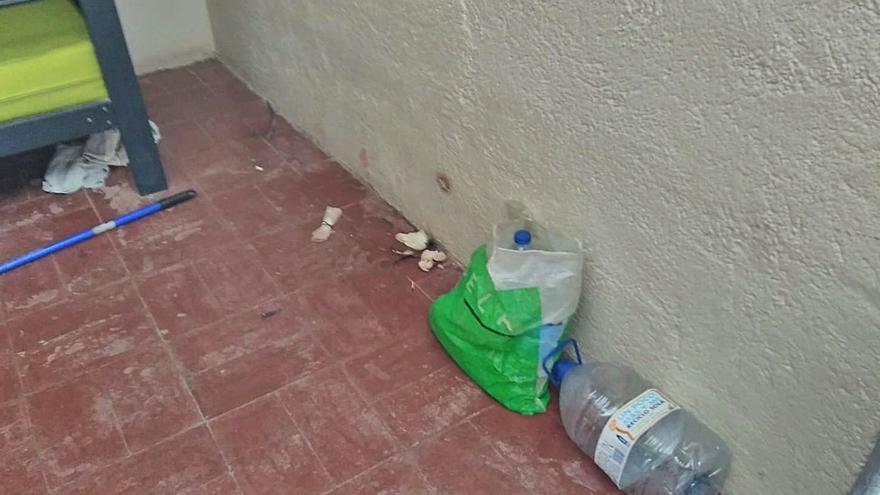 The mountaineers of Tenerife and other habitual trekkers on the Island once again denounce "the dirt in the Altavista Refuge and its surroundings ». Barely two months after the clean-up mess carried out by a group of volunteers the images are compelling. It is already a clamor among lovers of enjoying nature that "the facility must be reopened, which is already on the way to closing for two years."
The photographs of the Tenerife Mountain Federation show a lamentable panorama. From the entity they point out that «we observe that the situation has worsened again because, where services were used before, physiological needs are made today ". They reiterate that "on the outside and inside, which makes it impossible to bear the bad smells derived from the lack of cleanliness." A quick summary: "Today the area is a veritable dung heap."
Barely two months have passed since last August 21 two dozen mountaineers climbed the Teide at dawn to clean the Lomo Tieso trail. Before they had approached the director of the National Park, Miguel Durbán, who authorized the collection of waste. That day they removed a significant amount of remains, especially those used for personal hygiene.
Then, Durbán expressed his concern about the poor condition of the Altavista Refuge, which has been closed for almost two years. A place that, they point out, "was previously in perfect condition, thanks to the care of the guards."
The mountaineers point out that "we have approached the counselor of the Council Head of the Refuge, Enrique Arriaga, without giving us an answer about the future of this facility ». On the contrary, from the Tenerife Federation they have maintained regular contacts with the Minister of the Natural Environment, Isabel García, "who has always been concerned."
The mountaineers reiterate their public complaint about this state of affairs in the National Park. And they reflect: "We must look for alternatives that involve a radical change, with criteria of information and environmental education in the uses and customs of the population, both local and foreign."
They conclude: «It is imperative to reopen the Altavista Refuge, whose closure for almost two years we denounced. It is embarrassing to answer the numerous inquiries from mountaineers in Spain and abroad, with the fact that we do not know when one of the most important high mountain refuges will reopen, which also facilitates access on foot to the Pico del Teide, the highest peak. discharge from Spain ».