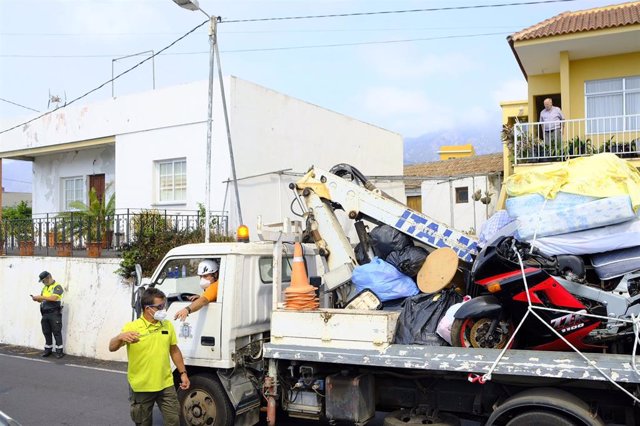 A van with all kinds of objects in its trailer, during the eviction of various areas of the municipality of Los Llanos de Ariadne, on October 14, 2021, in Los Llanos de Ariadne, La Palma, Canary Islands (Spain). The management of Pevolca has ordered this ju – Europa Press
SANTA CRUZ DE TENERIFE, Oct. 16 (EUROPA PRESS) –
The Cabildo de La Palma has announced the distribution and accompaniment of household goods to homes in the southern area scheduled for next week. The schedule will be from 08.00 to 18.00, and the closing time of the area will be at 19.00.
To authorize access to the different areas, it will be necessary to show the DNI or any other document that proves residence in that place (water or electricity bills, rental contracts, etc.).
On Monday you will be able to access the neighborhoods of Corazoncillo, San Nicolás and Jedey, in the municipality of El Paso. On Tuesday, to La Jurona, San Nicolás, Jedey and Las Manchas de Abajo, in Los Llanos de Aridane. On Wednesday, to Todoque, Las Norias and Morro Los Judíos, also in Los Llanos.
On Thursday access to El Remo and La Bombilla, outside the exclusion zone, is authorized. On Friday, to Puerto Naos, and next weekend, access to all areas will be allowed indistinctly.