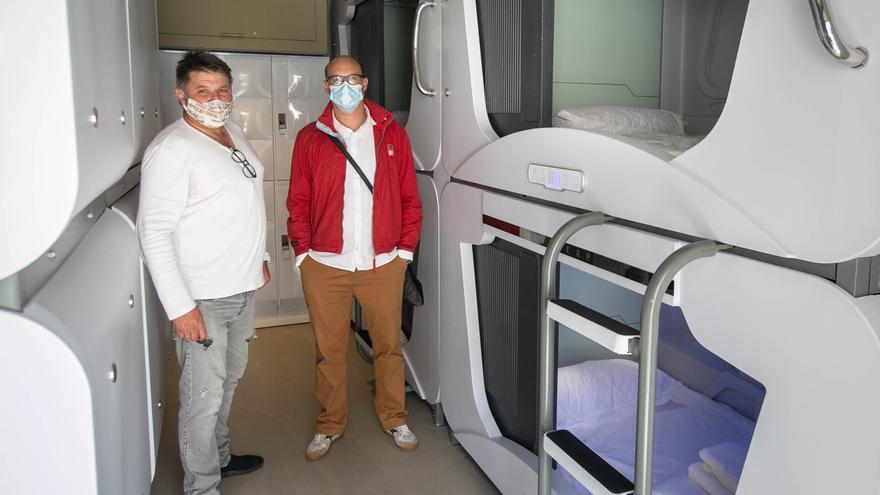 Capsule hotels are a Japanese invention designed to save space and offer accommodation at a very competitive price. A group of investors from the islands wanted to adapt this Asian concept to European tastes and, after fighting since 2017 with a bureaucracy little given to tourism innovation, The Atypicap Capsule Hostel has just opened in Puerto de la Cruz, the first tourist accommodation in capsules which is launched in the Canary Islands and the second in all of Spain, after the Optimi Rooms in the city of Bilbao.
It is a hostel or youth hostel, included in the Canary Islands Youth Hostel Network and in Hostelling International, although it has the soul of an urban hotel and does not set any age range for its customers. Its manager, Fernando Constante, emphasizes that it offers "a new concept of accommodation, a unique experience in the Canary Islands." The 66 nest capsules have one or two seats and avoid the "niche type" design commonly used in Japan and other Asian countries. "We have Europeanized this Japanese design, made in China, so that the door opens sideways and the interior is much more spacious than usual," says Constante.
This novel concept collided with the hotel regulations in force in the Canary Islands, forcing its promoters to seek accommodation in the only current denomination that is adapted in a certain way to this "different tourism" project. They have had to cling to the youth hostel label due to the non-existence of the capsule hotel category, which is present in many other countries around the world.
Air regeneration
The capsules are equipped with an air regeneration system, lighting with adjustable intensity, vanity mirror, high-speed internet access, 26-inch flat screen, safe, hangers, smoke detector, bluetooth and several USB ports. The idea is that each client uses their mobile device to enjoy their content, always with headphones, comfortably installed in their trundle bed, which can be closed from the inside to guarantee maximum privacy.
On each of the three floors where the capsules are distributed, there are five individual bathrooms for shared use, with a double drain to avoid flooding, as well as numerous lockers with personalized access codes. On the ground floor and on the roof, which has a viewing terrace with views of the Porto rooftops and the tower of the Parroquia de la Peña de Francia, are located the restaurant and the cafeteria managed by Café Caramba. In addition, it has adapted bathrooms on the ground floor, a shared kitchen and other common areas. In the future it is expected to open a family suite with two capsules in a space isolated from the rest of the rooms and with a private terrace.
Expected for March 2020
The Atypicab Capsule Hostel was going to be the first accommodation of its kind in Spain, but the opening of another similar establishment in Bilbao was very little anticipated. His intention was to inaugurate in March 2020, but the coronavirus pandemic arrived and disrupted all plans. They have been open for about two weeks now and this weekend they had 35% occupancy. On the occasion of its premiere "in test mode", they have special prices that give the possibility of staying in a single capsule for 22 euros per night, or in a double capsule for 36 euros, just 18 euros per person per day.
"There is a reception 24 hours a day and it works in a very dynamic way. Here you can book at the last minute on the web or at the door itself. It is a comfortable, fast and easy place to stay for the night when necessary, "explains Constante. Each client receives bedding, exclusively designed for these capsules, a visco-elastic pillow, a shower towel and a hand towel. Breakfast, headphones, slippers, toilet sets and various merchandising are offered at an added cost. In addition, every Sunday from 11:00 a.m. to 1:00 p.m., Café Caramba offers a special brunch service on the rooftop terrace of the Atypicab Capsule Hostel.
"We have common areas"Constante emphasizes, "but our true common area is the entire city and the rest of the island. We want our clients to live abroad and enjoy everything that is offered around us. Our intention is to anticipate the new tourism that is to come and that more and more is fleeing from stays in a conventional hotel to stay belly up on a deckchair. That will continue to exist, and that's fine, but we are addressing another type of visitor who wants to be on the street and visit new things every day. We are aware that this is not something for everyone, but we are also sure that we offer a unique experience in the Canary Islands », Constante details.
Alberto Putzulu is one of the owners of this new business in Puerto de la Cruz. Together with other investors, he took a risk to convert this old residence for the elderly into a unique tourist accommodation in the Canary Islands. Reform, adapt and equip this property, located in the central Agustín de Bethencourt street, between the Institute of Hispanic Studies of the Canary Islands (IEHC) and the Casa Iriarte, required an investment of 2.3 million euros. The building is accessible and is supplied with electricity from renewable sources and does not use solid fuels.
The individual capsules are 194 centimeters long and 92 centimeters wide, "so they don't feel claustrophobic. Any bunk have less free space ».
"We incorporated an offer that did not exist and we hope it will be well received", says Alberto Putzulu, who adds that "now you can come to enjoy Puerto de la Cruz and its great cultural, gastronomic, leisure and festivals offer, and that it's cheaper to stay at the Atypicab Capsule Hostel than to take a taxi back home. '