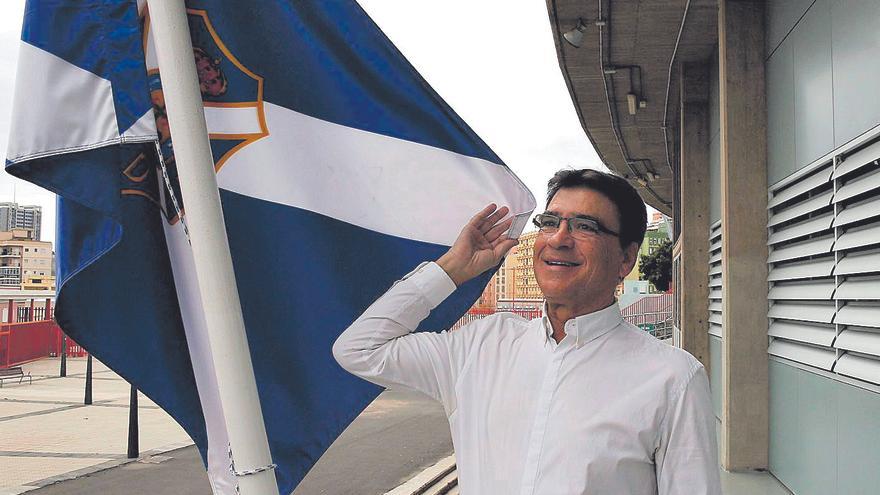 If we talk about CD Tenerife and UD Las Palmas, I suppose we are talking about the most important clubs in their careers.
Yes. I also played in the First Division with Castellón and I was at Atlético de Madrid, but Tenerife is the team where I started and the one that gave me the opportunity to live from football; And it was in the Sports Union where I developed most of my career at the sports level. I am grateful to both of them, at different stages. What I do have is clear is that at the moment I am within Tenerife and I would like the team to continue on the line it is leading. It's what all fans want. We have had seasons of uncertainty, trouble, bad classifications and others, and now we are very excited.
You played in that Sports Union consolidated in the First Division. If a classic was played, it was the Copa del Rey or the League Cup. There were no doubts with the favorite.
Undoubtedly. We were playing for important things in First Division, and Tenerife continued in Second and even Second B. I remember that all the boys in the quarry had the illusion of reaching the First Division and of doing it with Unión Deportiva Las Palmas. In fact, there were many of us who passed through the yellow club after playing for Tenerife: José Juan, Martín, the two Gilbertos, Jorge, Medina, Víctor, Salvador, Chinea, Juanito … If we wanted to reach a higher category, we had to go to the Sports Union or to the Peninsula.
It was the shortest way for a youth squad from Tenerife.
Of course. In my case it was different because first I went to Atlético de Madrid, with Román. Then we returned two years later to the Sports Union. But that was the illusion we had at that time. To get to Primera, the closest option was to go to UD Las Palmas. With the passage of time that situation has changed. The two clubs are in the same category and there is no such supremacy of the Sports Union over Tenerife that did occur in those times. Things have changed. We are on an equal footing.
How was it for a person from Tenerife like you to play a derby with UD Las Palmas?
It was not easy. I can assure you. Whatever he did, he was always going to look bad. My family was and is a fan of Tenerife, friends, all the close people … And they saw you defending the eternal rival's shirt. It was complicated. I had to forget about the environment and, as a soccer professional that I was, defend the interests of the club that paid me. That's what I was trying to do. Later, there were moments in privacy in which I shared my experiences with friends and family. But it was not easy to manage that at a certain moment you wanted the team that paid you to beat the one from your land, the club where you started. Neither have I ever hidden it nor will I now. I will be eternally grateful to UD Las Palmas for my ten years there and for the exquisite treatment they gave me and my family. What's more, they have had multiple details with me once I retired. I always felt loved and valued. I can't say anything negative. Another thing is that when Tenerife and Las Palmas meet, you want to win. That is lawful. Wish him ill? Not at all, because I have no reason for it. Quite the opposite. I wish him the best, but professionally speaking, I want us to be above and to go up to the First Division. That is my thought after a few seasons of suffering. It is time for the fans to have some joys.
Was there a special moment for you in derbies?
They were all special. No Tenerife-Las Palmas passed without leaving me a memory. They are multiple, some more pleasant than others. The simple fact of going out to the field, having those experiences, the pre-matches … They are special weeks. This is how the street itself makes you feel, the fans. In the locker rooms there is a lot of talk about these games, something that does not happen so much in other games. It stays on your retina. Three points are played, it is undoubted, but in derbies, normally the loser is touched and suffers in the following days.
What do you like about Luis Miguel Ramis' Tenerife?
As a fan, I am excited, because I see that the team has many alternatives. A squad has been formed that has a clear idea of ​​how they should play and that is getting everyone excited. The fan was a bit disappointed, without knowing what he was going to find this season, and not only is the start being good, but the hallmarks are clear and the results are being positive. But the season is long and we must be cautious.
And from the Sports Union?
It has players who make a difference, like Jonathan Viera, but not only within the Unión Deportiva squad but in the entire category. We are talking about a different footballer. Both teams arrive at a good time and I think we can enjoy an exciting derby. I hope that all the fans enjoy it, that sportsmanship reigns and that there are no victims.