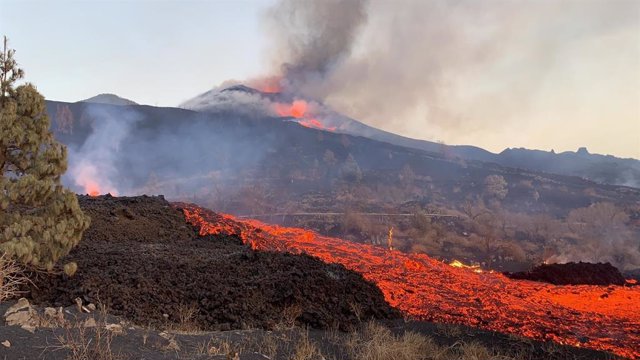 Lava flow on the island of La Palma – INVOLVE
SANTA CRUZ DE TENERIFE, Oct. 3 (EUROPA PRESS) –
The Pevolca Steering Committee has ordered this Sunday the evacuation of the scientists and the personnel of the different emergency services that were developing their work in the areas near the La Palma volcano, taking into account air quality measurements. .
The technical director of the Steering Committee, Miguel Ángel Morcuende, explained at a press conference that the air quality this morning "was not the best" in the area where the evacuations have taken place, which are the vicinity of the laundry and the interior from the previously evacuated area.
Miguel Ángel Morcuende has clarified that this problem "strictly" affects these areas and assured that in the population centers that are outside the security perimeter, set at 2.5 kilometers from the main cone, there are currently no quality problems from air.
In any case, it has reported that suspended particles continue to affect, a phenomenon associated with the volcano, to which are added suspended dust from the African continent and that last Friday forced the confinement of several neighborhoods.
On the other hand, Morcuende explained that, according to the latest data provided by the Copernicus satellite -of last night at 02.00 hours-, the affected area is already 399 ha, about 52.5 ha more than yesterday. The maximum width of the wash is 950 meters and there are 30.7 km of roads that have been left unused. Likewise, 1,074 buildings were affected by the eruption, 946 of them destroyed and 128 damaged. As for the people housed, there are 205 housed in the Fuencaliente hotel.
Regarding the problems of drinking water supply and irrigation in those neighborhoods of the municipalities of El Paso and Los Llanos that are located south of the intersection of the coladas, the technical director of Pevolca indicated that they are trying to solve and reported that there have been no incidents so far in the electricity supply or telecommunications.
Regarding the flows that have arisen in recent days, Morcuende pointed out that they continue to be monitored and watched, adding that the area of ​​the fajana is currently 28 ha.