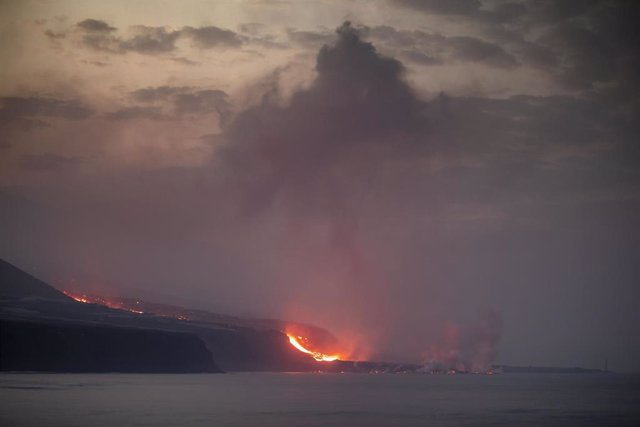 The lava delta of Cumbre Vieja, from the port of Tazacorte, on October 1, 2021, in La Palma, Santa Cruz de Tenerife, Canary Islands (Spain). The lava from the volcano began on September 28 to gain ground from the sea, forming a delta of 50 meters d – Kike Rincón – Europa Press
SANTA CRUZ DE TENERIFE, Oct 2 (EUROPA PRESS) –
The Villa de Mazo City Council has launched a reassuring message to the public and advises that they follow preventive measures to guarantee security and maintain normality in the daily life of the municipality, two weeks after the eruptive process began in Cumbre Vieja .
The mayor, Goretti Pérez Corujo, participated this morning in the steering committee of the Volcanic Emergency Plan of the Canary Islands (Pevolca), where the situation was analyzed and preventive measures were emphasized for the area of ​​incidence of the eruptive process, in addition to the rest of the island.
Goretti Pérez Corujo insisted on the need to adopt a responsible attitude, taking into account all preventive measures, while at the same time launching a message of tranquility. "We have to get used to living with the volcano. What is happening in the Aridane Valley is devastating, but in our municipality we must be in solidarity and the best way to help the affected people is to keep calm and tranquility, trying to carry out a normal life, "he said.
Municipal workers and vehicles continue to work in the municipality to remove the ash and sand deposited in recent days, especially to keep the roads clear and to guarantee mobility safety Finally, the mayor wants to highlight the solidarity of all neighborhoods from Villa de Mazo, who from the first moment have turned to help the sister municipalities of El Paso and Los Llanos de Aridane and Tazacorte.
In this sense, the City Council enabled, from the first moment, two points for residents who wanted to make a donation, in the Tirimaga Cultural Center and in the premises of the Local Police.