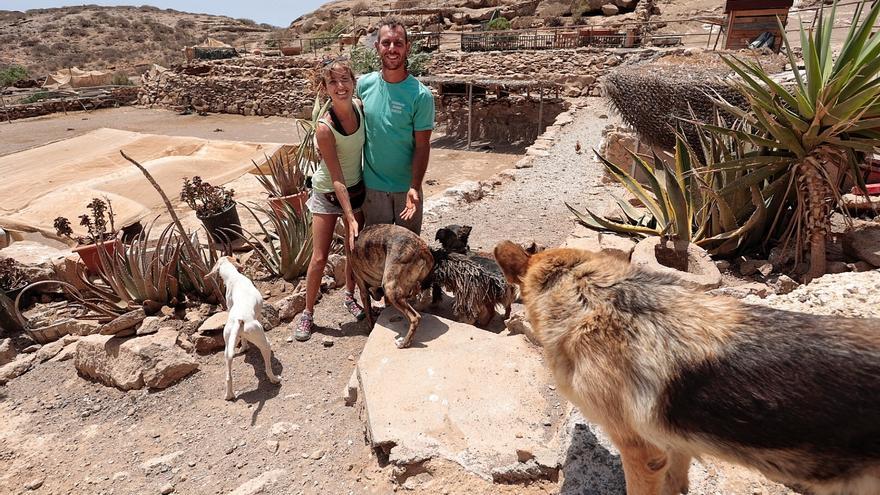 Megatron It is a rooster that was launched onto the South Highway from the truck that was taking him to the slaughterhouse. A car saved him from a certain hit and took him to a nearby gas station, which in turn took the rooster to an animal reserve that his workers knew was nearby, in La Jaca, Arico. It was about four months ago. Today Megatron He weighs 8 kilos, he is one of the leaders of the sanctuary and he runs from here to there at ease. Very close is Turbo, a horse with its short jet black manes. He arrived at the age of 28 after going through two dropouts, first after being a show jumping champion and then after they bought him to put him in dressage. When they brought him to La Jaca they didn't give him many days to live. It was in very bad shape. Today, at 32 years old, he runs around without shoes, saddle, mantilla, or reins. He walks over to have his face massaged and a mango slice.
Stories like those of Megatron or Turbo -That was called Turbo I and William and now it's called only Turbo– are repeated betweens 18 horses, 16 dogs, 30 cats, 6 rabbits, 6 turtles, 60 guinea pigs, 40 birds, plus 3 sheep, 4 goats, 3 pigs and 2 donkeys that live in freedom this sanctuary of abandoned animals of the island. Is named Tenerife Horse Rescue, occupies a large area of ​​6,500 square meters in the windy midlands of Arico, with privileged views of the sea, and everything, absolutely everything, what is made in this Noah's ark is recycled and donated, including animal excrement –with which compost is made– and even the plants, which are rescued from The trash. It is the philosophy with which the Italian Edoardo Pensato and the English Emma Greenfield manage the installation.
All recycled
"We even heat the water with compost," Pensato details while caressing one of the horses hosted at this sanctuary. Emma and Edoardo were living in Fuerteventura when it occurred to them to set up a large shelter. They found out that a large piece of land was being sold in Arico, they bought it and began to build the extensive facilities of Tenerife Horse Rescue given his passion for animals. They do not accept grants, but donations from companies and individuals. For example, they receive all kinds of leftover food from Lidl and Hiperdino supermarkets, from the Canarisol agrarian society and even from pastry shops, such as La Canela, in San Isidro (Granadilla de Abona). Thanks to these contributions, Edoardo and Emma have the collaboration of 30 volunteers, all distributed in the different tasks. The Argentine Matías Buttigliero, one of them, steps with his bare feet on the clay he uses to make Gaudian-inspired walls. Of course, everything is recycled, even the ceramics and decorative glass.
Another of the volunteers is Diana Pirés, a 28-year-old woman from La Rioja who is followed in the sun and shade Sergio. This 12-year-old dog spent his entire life in a shelter. When they ran out of space, they offered it to the La Jaca residence. "First they go through a period of adaptation. Here they are free and the vast majority are not exactly used to being like that. They arrive here after being locked up for long periods, abandoned and in terrible conditions. Sergio, for example, he spent his whole life in a cage. Nobody adopted it. But, look at him … A few months after arriving he is already used to the place, he does not detach himself from me and he is very affectionate ». And it is that the greatest satisfaction for all the volunteers, who have come from different parts of the world, is «to see how animals that have suffered so much recover, go on to a life without the slightest tie and even show their happiness by returning the affection that we give them », As Diana tells us.
Nona's story
Edoardo interrupts the task to accompany her on a tour of the sanctuary. What if Sergio does not detach from Diana, Ninth not from Edoardo. That of this German shepherdess is another of the many curious stories of the inhabitants of Tenerife Horse Rescue. A German had it on a farm but the dog had a habit of destroying the hoses of the irrigation system. "I was fascinated by water and hoses," explains Edoardo with a laugh. When they brought her she had filaria, the worms that attack the heart. Due to the disease and his advanced age, 9 years old, it seemed that his life horizon was very limited. But months later he has healed, he has learned not to bite the hoses, is the head of this heterogeneous herd – along with the rooster Megatron– and it goes where Edoardo is, who is also followed by another half a dozen dogs of different breeds. But Ninth It is special for him: the day he was informed that his grandmother had passed away arrived. "That's why it's called that, grandmother in Italian."
Tenerife Horse Rescue not only does it have thirty volunteers and collaborating companies and institutions. Also with moms, a dozen women who contribute donations and are responsible for the care of some of the residents of this reserve. It is a figure of collaboration that is increasingly accepted. "They contribute money to keep the animals and they come very frequently to take care of them, clean them, give them affection, take them for a walk …", explains Diana Pirés. Among those moms There are two equestrian champions, Poppy Rose McLean and Stelle Natalia Lee, two minor English residents on the island and lovers of the sport of equestrian who frequently go with their families to La Jaca to take care of the horses. Who better than them to give affection to equines.
The role of the 'moms'
One of the horses pampered by moms it is Jerome. He had been abandoned on a farm with his foot chained. The main supplier of the reserve, a man dedicated to these animals who learned from his contacts of the numerous cases of abandonment of horses on the Island, warned of their terrible condition. They are animals that need a lot of care, investment and spacious facilities. And when they become a nuisance, like Jerónimo, they end up lying on a farm or stable. «Jerome, who is 15 years old, arrived in the bones and with serious digestive problems. It cost us because we had eaten a lot of land due to the hunger that happened. Now he is perfect, always accompanied by two females, Jingle and Quica, also abandoned ", narrates Edoardo Pensato.
In the space of the sheep, Fredy he eats carrots and herbs while his sister and mother rest in the shade. The sister is pregnant. They brought her like that and that was the reason they claimed for not being able to take care of them. At the bottom of the facilities are Wela, Erik and Capri, of the first horses that arrived at La Jaca. Mango portions are eaten as if it were a delicacy while poking their noses out for caresses. Beyond are the two bravest and most intractable horses: Cadet and Faun. They are young, the first 11 years old and the second 5 years old, and as Edoardo says "they are of turkey age." But they are adapting. It is a process". And near the area of ​​guinea pigs and rabbits the goats walk Heidi and Meh, delivered after a family exchanged a farm for a flat as a place of residence.
The pantry of donations
Tenerife Horse Rescue It has a total of five paddocks for horses, 20 areas for small animals – including a specific one for three cats with contagious diseases that receive special care – and other rooms to, for example, store vegetables, fruits, herbs, rice, flour, pasta and other types of food that they receive from donations. Because they are only financed with private contributions, they move a lot on social networks as a form of promotion to maintain their activity. They even have plans for the future that include expanding the center: they are interested in an annexed plot three times larger to increase the reception capacity and always keep the animals free.
In addition to all the veterinary care and attention, Edoardo and Emma are specialized in training horses without horseshoes to improve your physical strength and well-being. Emma is in fact one of the representatives in the Canary Islands of The World Bitless Association, a volunteer group of trainers, riders, other equine professionals and horse lovers. They are the services of one of the largest sanctuaries in Tenerife, where abandoned animals spend what remains of their existence in conditions that they never imagined and that do not resemble their harsh experiences in the least.