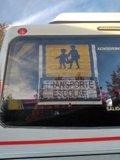 SANTA CRUZ DE TENERIFE, Sep 8 (EUROPA PRESS) –
The president of the Transport Entrepreneurs Association (AET), Ignacio de la Paz, has distanced himself from the announcement of the Transport Entrepreneurs Federation (FET) and has guaranteed that the "practically majority" of the archipelago's carriers will cover this Thursday the school transport routes on the occasion of the start of the course.
In statements to Europa Press he commented that the decision made by the FET was due to a "heat" motivated by the "discomfort" that the subsector has with the Ministry of Education when renewing the contracts but they understand that a decision of this kind of "it can't be taken from one day to the next."
"They are our children and we are not going to leave them stranded," he said, while indicating that there is concern in the families because it is not known which are the routes affected by the interruption of the service – it is about those that are in validation phase.
De la Paz, however, has been critical of the attitude of the Ministry because it has offered price reductions of up to 40 percent when they have not been paid since March and neither the rise in the CPI nor the update of the minimum wage.
"Everything has become more expensive, such as diesel, and we cannot lower the wages of workers," he indicated, noting that this Thursday's service will even be provided under other modalities such as 'excursions' or 'special services' . "We don't have any papers," he stressed.
For this reason, it has advanced that this Thursday, transport subsector workers are going to meet in assemblies and it is foreseeable that they will agree to present a strike notice for next September 20 "and on all routes", not only those submitted to validation.