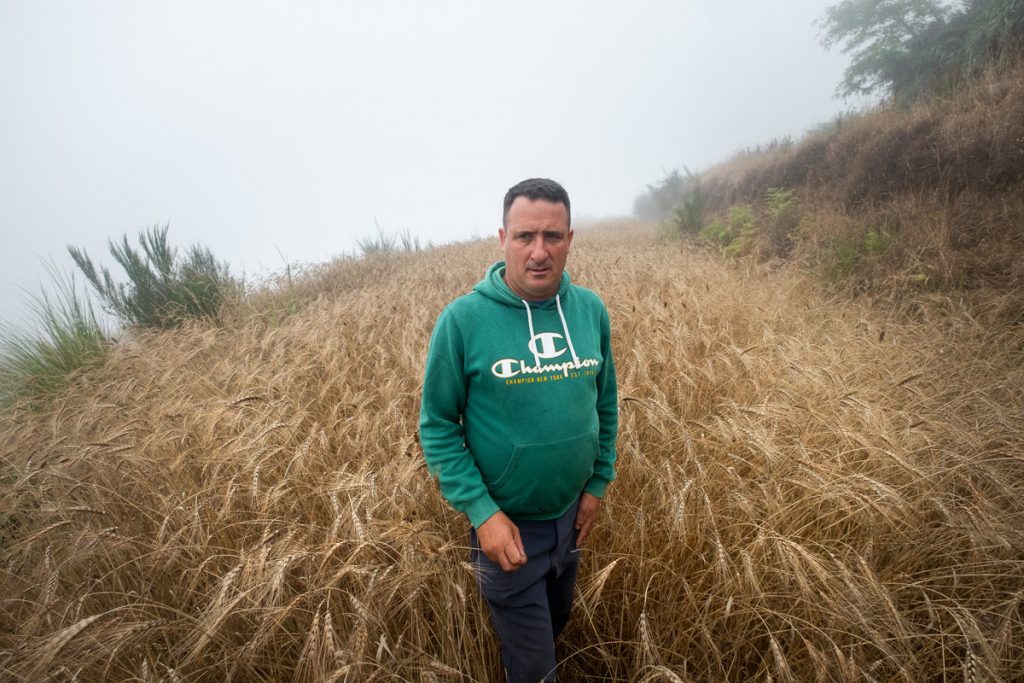 When summer arrives, and specifically the month of August, there is a neighborhood in Los Realejos that is tinged with gold by the color that its fields take on and it is inevitable that its inhabitants travel to the past and remember the harvest, that manual work that is used to be used in the past to collect wheat and other cereals such as barley, oats or rye, and which many farmers still miss because it was a festival despite the great effort involved.
Fortunately, technology has won the pulse of the sickle and the scythe and has provided the field with machinery that makes its work easier for the sector.
In Icod el Alto there are still many people – whole families – who are dedicated to the cultivation of wheat, of which there is a great variety (marsello, colorado, raposo or jallado) although the predominant one is chin wheat, of great rusticity and that produces both grain and straw of good quality.
This month is key because the seed is collected and saved to be sown between January and February. The next step is to prepare the land so that it is free of weeds because they eat the wheat.
Los Realejos produces more than 50% of the island's cereal and of the 120 farmers in the North that are integrated into ACETE (Tenerife Cereal Association), 90 belong to this municipality and most of them belong to this nucleus, also known as Icod de Wheats thanks to the supremacy of this crop.
Tomás Alonso León is one of them, in addition to being the vice president of the aforementioned association to which the Cabildo cedes the machinery for cleaning, collecting and packing the grain, which contributes to improving its work.
It has been dedicated to agriculture for almost a quarter of a century. At the age of 16 he went to the south of the island to work on tomatoes and at 18 he already wanted to buy his tractor. He went to the barracks, did the military and the company he worked for gave him the possibility of acquiring one and he did not hesitate.
When he told his father and mother, they thought he had "gone crazy." At that moment they "didn't see it", but Tomas has shown them over the years "that he wasn't that crazy", that he was actually doing what he wanted. "If I were born again I would dedicate myself to the same thing again, to work the land. It has been the only job I have ever had in my entire life and it is the one I want to keep doing forever ", he confesses.
His father was a builder, he never engaged in agriculture professionally. In his house there have always been "goats, some vegetables" and potatoes were grown "but to fill the basket." Unlike his father, he prefers dirt to cement.
Tomás comes from Los Alzados, a family with Guanche roots, as has been demonstrated through a historical, genetic and ethnographic study. From there he believes that his love for the land comes, from which he always learns something from the hands of farmers. "I've always seen the sowing and harvesting dates, how the seeds work, and I've been soaking up all of them," he says.
When Icod el Alto begins to tinge itself with gold, this young farmer has no rest. He does not want to know anything about vacations or days off. Then enjoy them like any citizen. They stop him on the street to ask him whether or not to start mowing or when he can go through his field to collect the grain. He does not complain, quite the contrary. He proudly displays the sacks with the grains that he collected and that he has to deliver. These are days of a lot of work, both in his fields and in those that he cares for, because the wheat must be harvested at temperature.
The plant usually reaches two meters in height, although in this area its size ranges from one and a half to one eighty meters. The serene person who has been in the last few days throws it and throws it to the ground, that is why it is important to pick it up on time.
Crop rotation
Most farmers choose wheat as a complement to tomato, potato, millet or vegetables. "Unlike other cereals, it is used as a crop rotation. Given the current big problem with pests, it stops them because they do not allow them to complete their cycle. Thus, potato farmers intersperse the planting of this tuber with that of wheat each year. In this way, they also avoid using a lot of phytosanitary products and the health of the earth is preserved ", explains Tomás.
But no peasant is dedicated exclusively to wheat. The 'gold of the earth' is part of a landscape of great beauty and to which no one remains indifferent, but "it is not paid for or subsidized as it should.
While a hectare of potatoes is around 3,000 euros, one of cereal is around 300. The difference is very large and that is why many of us cannot afford to stop planting potatoes for wheat knowing what the subsidy will reduce ".
A bad ally
Tomás clarifies that despite doing what he likes, "he doesn't pretend to be rich, but he doesn't pretend to be unhappy either." Proof of this is that he has survived three crises working in the fields, that of 1994, that of 2099 and the current one, and he is clear that he wants to continue doing so, despite the fact that his work, in addition to a lot of sacrifice, depends on external factors such as the weather. In this sense, climate change is not exactly a good ally. "It no longer rains as before and at designated times, such as at the end of summer, which are necessary."
As an example, he says that before potatoes were planted in September and in recent years this has been impossible due to high temperatures.
Tomás proudly says that next year he will turn a quarter of a century as a farmer. "25 years living in the countryside and very happy." He does not yet know how he is going to celebrate it, everything will depend on the pandemic. "But a meal with friends and family, there will be insurance," he stresses.
The traditional harvest: a long-awaited journey back in time
There is a day in Icod el Alto that the whole town awaits: the traditional harvest. It is the second Sunday in August and farmers do manual labor in the field to remember how cereal was once collected, a task that was very laborious. An ethnographic rescue of the traditional culture of Tenerife is always dedicated to one day so as not to lose tradition, around which the whole family unites and the whole town is involved, regardless of whether or not they dedicate themselves to agriculture. "The harvest is a party and it is nostalgia, because it is what has been done for more than 500 years. It is a very beautiful day, it is like traveling back in time. The women come with the Balayos of food, you pour yourself a teaspoon of gofio with sugar that then you lower it with the wine and you hang out, "says Tomás with some regret. The same that many neighbors share since for the second consecutive year the Covid-19 prevented that day from being the party that everyone expects and had to settle for a symbolic act and an audiovisual report that was broadcast on social networks to continue to keep alive the essence.