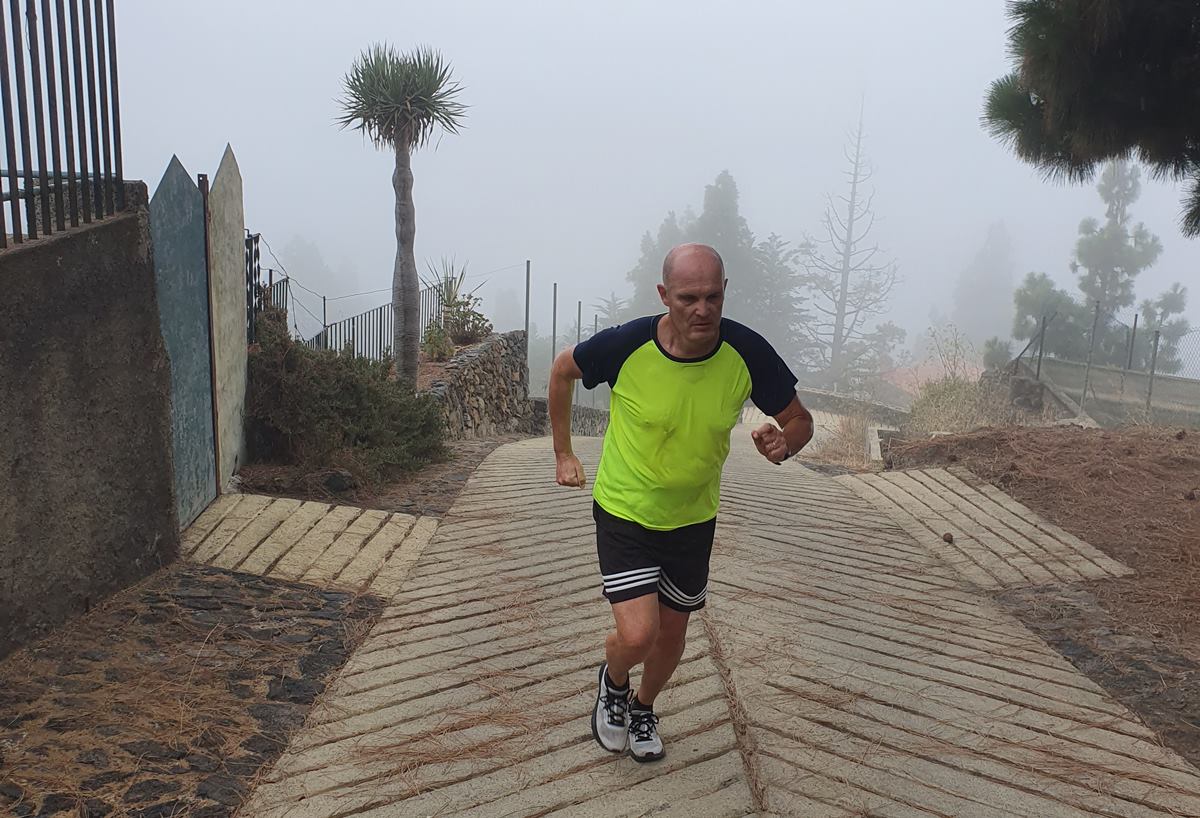 You only need good footwear and comfortable equipment – without forgetting your mobile, in case you have to attend to a hurry – to enjoy almost daily your passion, running in the middle of nature. We are not talking about a runner or an elite athlete, we are talking about the priest of Arafo. With half a century of life, Simon Herrera reached on July 31 500 uploads to Cosme, an authentic wall that reaches from the town of Arafo to the recreational area of ​​Los Frailes. It is not about the distance, just 1.6 kilometers, but about the hardness of it, with a drop in the final section that reaches 36%, so much that it has recently been the scene of the training of Chris Froome himself, former Tour winner from France.
He became fond of running when he was 14 years old, when he played basketball on La Palma with Canarian players such as Carlos Menotti or Pipi Cabrera. "Whenever I ran, I went ahead and on my own, almost every day to Santa Cruz de La Palma-airport, until I was ordained a priest and wherever I went I would set up my own circuit. When I got to Arafo I saw that white track from the main road, which they call Camino de Cosme. The first time I walked up it and decided to do it running, until I started doing it with some regularity. Until the arrival of the confinement I had done it 75 times and people encouraged me to reach one hundred, because they followed me through social networks. In June 2020 I reached 100, but I made the other 400 in less than a year ".
Cosme's path has a distance of exactly 1.6 kilometers, with a grooved cement to evacuate the water. The slope, exactly in sections that is around 2 or 3%, has an average of 15%, although in the last section, the most demanding, the unevenness reaches 36%.
"The main thing to do the climb is to dose the efforts and of course have a lot of mental strength, legs and perseverance. Many who were encouraged to do the tour with me started out very strong, but they ended up walking and with many minutes of difference ", recounts the parish priest of Arafo, who also does not forget the chrono:" the best time I have done has been 17.59 minutes, which It's a beastly time for me, although I think the record is held by Glendor, a trail runner, who did it in 14 minutes ".
In this goal of setting challenges, Simón Herrera placed a star on his shirt after every 75 uploads, and so far he has carried six and also five gift cakes from his parishioners for each time he reached one hundred. Always with the spirit of "always moving forward, never looking back", with positive messages on Facebook, with a large following, "I don't know if because I am the priest or why", so much so that it encouraged the mayor of Arafo and that of Güímar, or the singer El Pachanga, well known in Arafo, who has risen 75 times. "Each Cosme has been different and each time I go up it costs me more, because I have climbed it with a lot of heat, with rain, with fog and even with hail when the storm Filomena arrived."
The next objective, after obtaining the permission of the Meseguer family, owner of the last wall before reaching the goal, is to place San Cosme in a small urn, which now only has a paper photograph there, although nobody knows, not even the mayor Juan Ramón Martín, where does the name of the road come from.
But that is not the only sports hobby of the singular priest. Apart from his love for basketball, spawned in the fruitful palm quarry, he is a fan of Canarian wrestling and a fan of international football, like his brother, who on a trip photographed the 16 football fields of the Belgian First Division. He was a supporter of Atlético de Madrid and today he is a supporter of Barcelona, ​​due to his father's antimadridism. He boasts that he already has the shirt that Messi will wear with the number 30 at PSG. In a short time he has won over the Arafo people, so much so that he feels "one more Arafero", and it shows with the passion that he puts on the broadcasts of the football team's matches on Facebook.