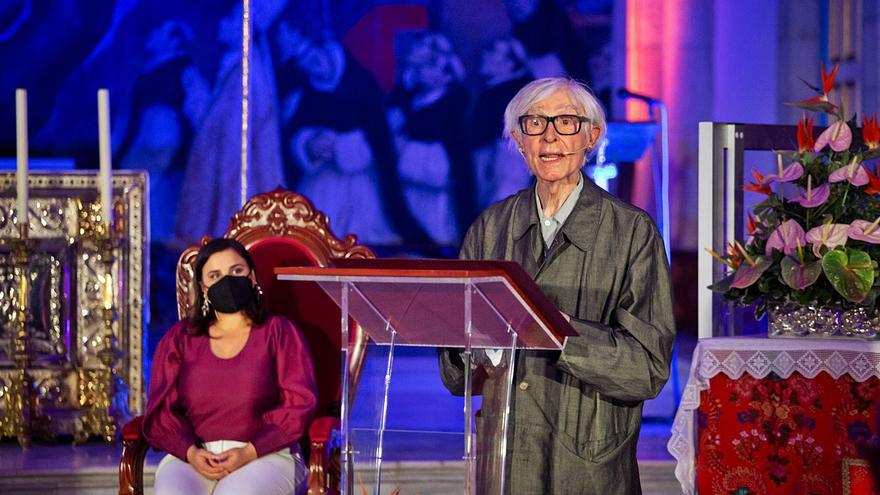 The pandemic once again conditions the popular festival, so that the only face-to-face act will take place tomorrow: the central mass on the main day of the festival. The proclamation was released last night, through Canarian Television, which recorded it days ago in the Basilica of Candelaria, "a space in which I feel very happy," said the town crier.
Pepe Dámaso Dámaso was artistically linked to a temple designed by the architect Marrero Regalado, "whom I met", and which contains the works of José Aguiar, with whom he coincided in Madrid. He recognized both of them bravery in their works, breaking with "the fashion" of the moment. "Being a bit close to both of them," he acknowledged, because, like them, he chose to build his path expressing art through the styles that they felt and filled them with. Furthermore, in his impromptu dissertation he referred to the Guanche ceremony, "a fantastic theatrical and primitive find."
"With my cane, my handkerchief and my wish that the promises to the Virgin be fulfilled and that we are all brothers between the Islands", he recalled the emotion he felt when he received the proposal to proclaim this party: "To my center, in La Isleta The prior of the Basilica came, I saw the mayor of Candelaria, my mayor, who barely knew the city; to the mayor of Teror, that I know that there is that pique between them, and I saw them all delivered, with joy, passion and an ecumenical enthusiasm that I think is where the world has to go, a God of all, a God May he comfort us and give us peace and may this difficult time of the coronavirus make us better, more supportive and more affectionate in the Archipelago. Thanks a lot. May God bless you! ", Concluded the town crier Pepe Dámaso before the Morenita.
The rector of the Basilica and prior of the Community of Dominican Fathers, José Ramón Enjamio, welcomed the mayor, Mari Brito: "Welcome to the light of the candle that blesses your generosity with this Marian village and with the people Canary, to whom you have donated all your artistic heritage ». The finishing touch was the musical performance of voices from the archipelago, such as Fabiola Socas, Ayatimas Brito, Ayla Rodríguez and Zaida Almeida, who performed a repertoire created for this act.