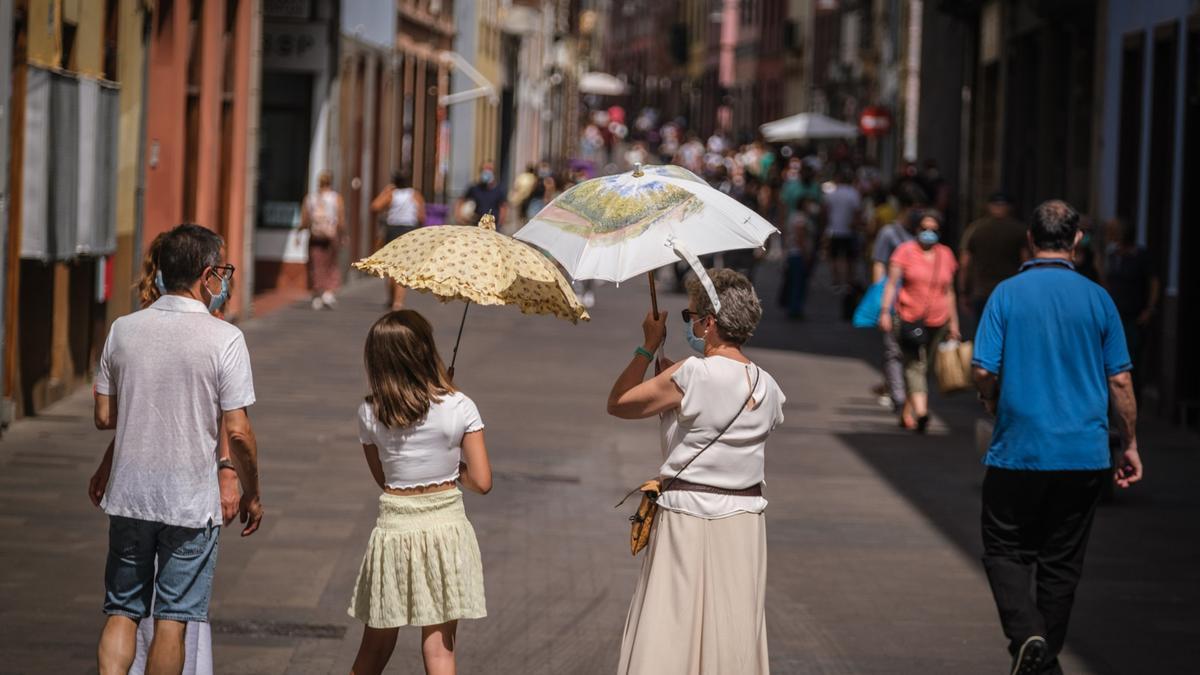 The Llano Los Loros (Las Mercedes) in the municipality of La Laguna, has set the maximum temperature on the island of Tenerife: 39 degrees (at 2:00 p.m.). It is the record published by the Aemet, whose forecasts indicated a considerable increase in temperatures within a heat wave episode that will last well into next week. The maximum temperature in the Canary Islands has been registered in the Gran Canaria municipality of San Bartolomé de Tirajana, where the mercury has reached 40.6 degrees.
The entire Archipelago is in Maximum alert this weekend for a heat wave that will leave temperatures above 40 degrees, a very high risk of fires and haze. The Canary Islands Government has activated three warnings before the arrival of high temperatures, which already began to be noticed yesterday and will continue until Wednesday. The Security Council activated two: the alert situation due to adverse meteorological phenomena for all the Islands, with a special warning for tomorrow, Sunday and Monday, and the declaration of maximum alert for the danger of fire in Tenerife, El Hierro, La Palma, La Gomera and Gran Canaria. Meanwhile, the Ministry of Health decreed different notices for health risks, thus setting action protocols in motion.
Red Notice of Health.
Health activates health risk warnings in most of the municipalities of Tenerife, La Palma, Gran Canaria, Fuerteventura and Lanzarote in which there is a forecast of simultaneous exceeding in the coming days of the threshold temperatures (32 degrees maximum and 24 degrees minimum) established in the protocol. In Tenerife and Gran Canaria, the red warning is activated between today and Wednesday in most of the municipalities of both Islands since it is expected that the threshold temperatures will be exceeded. Most of the municipalities of La Palma, Fuerteventura and Lanzarote will be on orange notice between Sunday and Wednesday. Meanwhile, in La Gomera the only municipality in which the thresholds are expected to be exceeded is San Sebastián, where the orange warning will be activated. The rest of the municipalities remain below these thresholds.
Maximum alert for fire danger.
The town councils and municipalities of the islands on maximum alert due to fire danger were activating their protocols after the general warning for the entire Archipelago of the regional Executive. The Tenerife Island Corporation reminds the population that activities in forest areas were suspended since yesterday, and that from today the stay and transit in the mountain is prohibited until said declaration is lifted, a date that will be communicated as the situation progresses.